Writing by Erandhi Mendis // photographs by Matty Vogel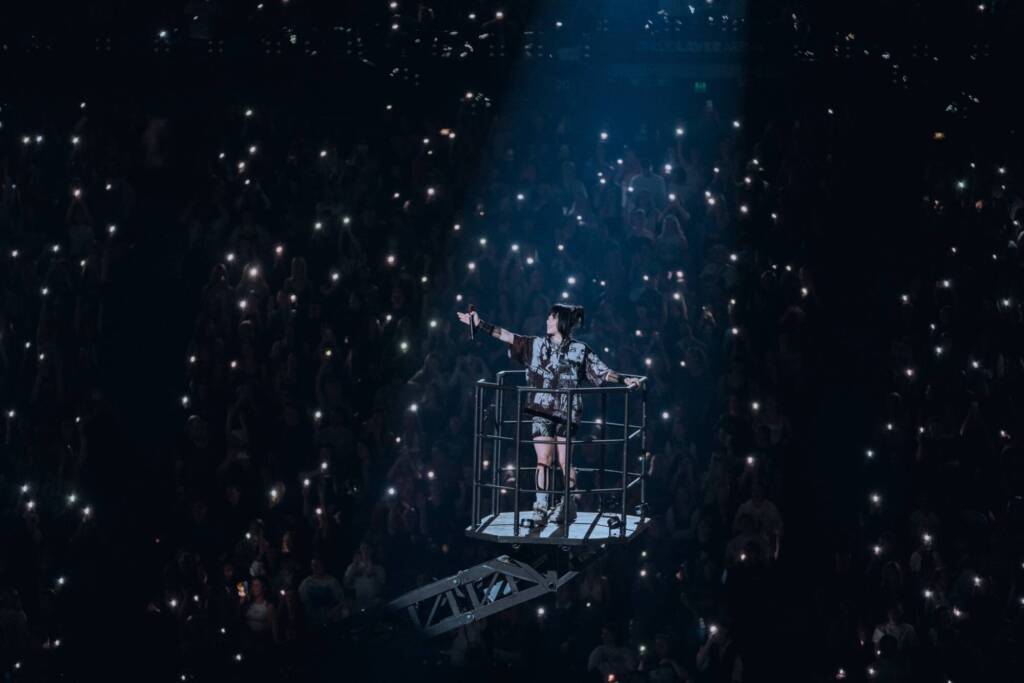 I've been to therapy before. I've had family and friends hold me and tell me everything's going to be alright. I've been to concerts where artists have made me feel like the only person in the room. But I've never had anyone tell me to throw a tantrum.
Until last night.
In a room of thousands, 20 year old Billie Eilish pauses her set and earnestly addresses the crowd "right now, I'm giving you permission to lose your mind. Throw a tantrum – whatever that means to you." For the more reserved, she guides the crowd through stomping their feet, shaking out their bodies – and most importantly, screaming purely for the purpose of release.
It is easy to forget how young Eilish is when you review her catalogue and the subsequent success she has had globally. But it is most astonishing as she gently takes on the role of caretaker for her fanbase. While it is an obvious reflection of her personality outside of her career as a musician it is also an incredibly mature understanding of the responsibility that comes with the love and adoration of millions.
I am charmed when she explodes from the floor for the synth pop opener Bury A Friend, wearing kinesiology tape all over her legs – it becomes apparent why as she bounds all over the stage. To call the show an active performance would be an understatement. What the staging lacks in intricacy, is entirely made up for in Eilish's stage presence. It's difficult to think of another artist who could physically command so much empty space for such a long set.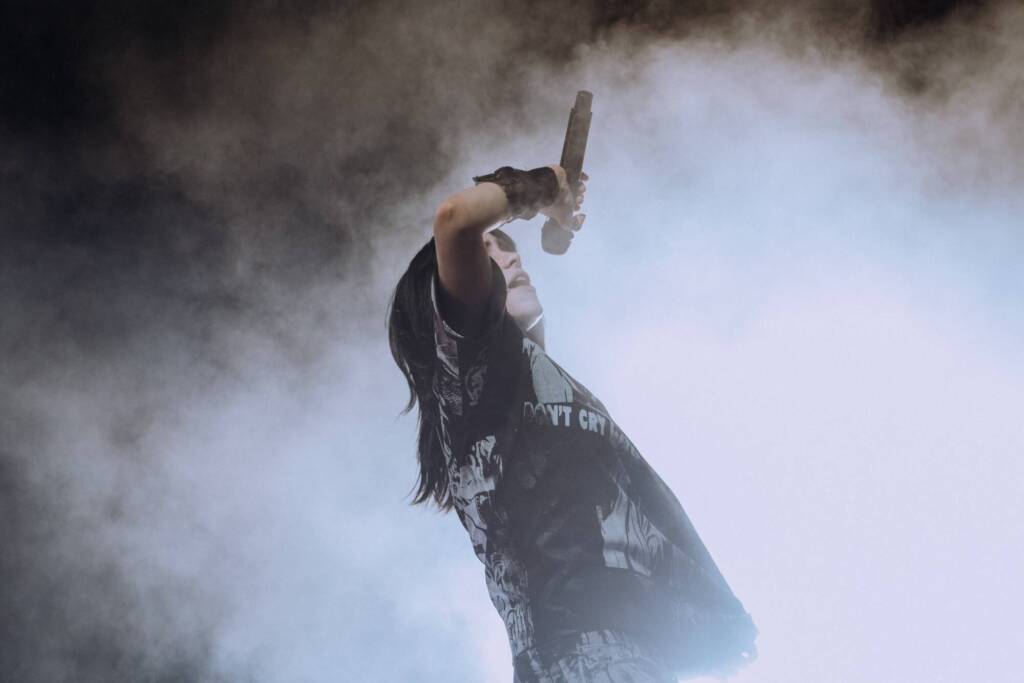 There is obvious power in popular music but when it comes to the musicality required to make something "radio friendly" while also being ambitious with contemporary reference and craft – Billie Eilish is a masterclass. A gloom pop singular – bringing the genre into the mainstream has made her synonymous with pop excellence while also being a delightful subversion to the way young women are perceived in the modern world. The refusal to be placed in a box, be picked apart by tabloid media and a brazen 'DGAF' attitude translates perfectly into her live show. A skeleton band, backing tracks so she can dance, minimal staging but high investment in lighting with no costume changes – she does whatever she wants and that is exactly why her audience loves her.
Eilish's artist project is supported by her brother Finneas O'Connell, an artist in his own right – fans chanting upon his introduction. There is something to be said about trust in collaboration. Writing and producing is an intimate, vulnerable activity and the success of the O'Connell siblings seems forged in not only years of hard work and talent but the seamless joy of being able to work with someone who understands you creatively. On stage – it is clear it would be strange to see Billie without Finneas nearby.
Her youth – or her connection to youth culture – is most on show in the crowd demographics, for many this will have been a transformative first experience of live music. Seeing a young girl dressed in an oversized black t-shirt and bike shorts with her hair coloured in spray paint, tied in space buns fills me with an astonishing nostalgia of being that girl in this very arena years ago. The choice of venue is endearing somehow. Choosing to graduate internationally by touring arenas despite the ability to easily sell out a stadium show in any of the cities on her roster – she is playing 4 near sold out shows in Melbourne alone.
Then again, everything about Eilish feels like a juxtaposition – and a subsequent reflection upon your own biases. The dark, often disturbing, visuals, thumping bass – countered with the safety of whispered "I love you's" and encouragement to hug the person next to you. Writhing on the stage floor – wearing baggy clothes and sneakers. Moshing with abandon as though we are at a metal gig, immediately followed by breathy stripped back vocals.
Reviewing the setlist before the show I was shocked at how many songs Eilish had selected to perform in such a short space of time. The trade off is that some of the songs only get a 60 second treatment – no complaints from the crowd, the more songs the better. A huge fan of The Office, Eilish interpolates dialogue from the season 7 show into My Strange Addiction which upon onset causes mayhem in the audience. During NDA, the ceiling lights descend towards the ground creating a UFO-like experience for those on the floor. A personal highlight is the acoustic set, performing Your Power, i love you and TV, the latter of which has a bone chilling line of the times "the internet's gone wild, watching movie stars on trial, while they're overturning Roe v. Wade."
The jewel of the show comes right at the end with the outro of the title track of her latest release, Happier Than Ever. As Eilish climbs the steep platform, a chorus of voices begin chastising "you called me again, drunk in your Benz, driving home under the influence." The remainder of the song comes from an almost guttural place, "and I don't talk shit about you on the internet…'cause that shit's embarrassing, you were my everything and all that you did was make me fucking sad." By the time she arrives at the final line the noise levels are sky high – awash with raining confetti.
"Just fucking leave me alone," bellows from within the depths of Rod Laver Arena – where for 90 perfect minutes, all Billie Eilish wants is for everyone to feel anything but alone.