Writing by Pink Matter
We're Izzy, Kerry and Libby of Pink Matter, and we've just released our new single Blue, a collaboration with fellow Meanjin artist/producer Squidgenini.
We really wanted to work with a female producer on this one and it was an absolute honour to work with Squidgenini, who is an absolute powerhouse in her own right. We were such big fans so it was a really cool experience to collaborate with her on the track. Blue is one of our favourites to play live – there's so much light and shade and structurally it's quite different to a lot of our other tracks. We couldn't be happier with where it ended up and it's another step in the dance direction for us which we're so excited about.
In honour of the collaboration, here's 5 things that pick us up when we're 'Blue'.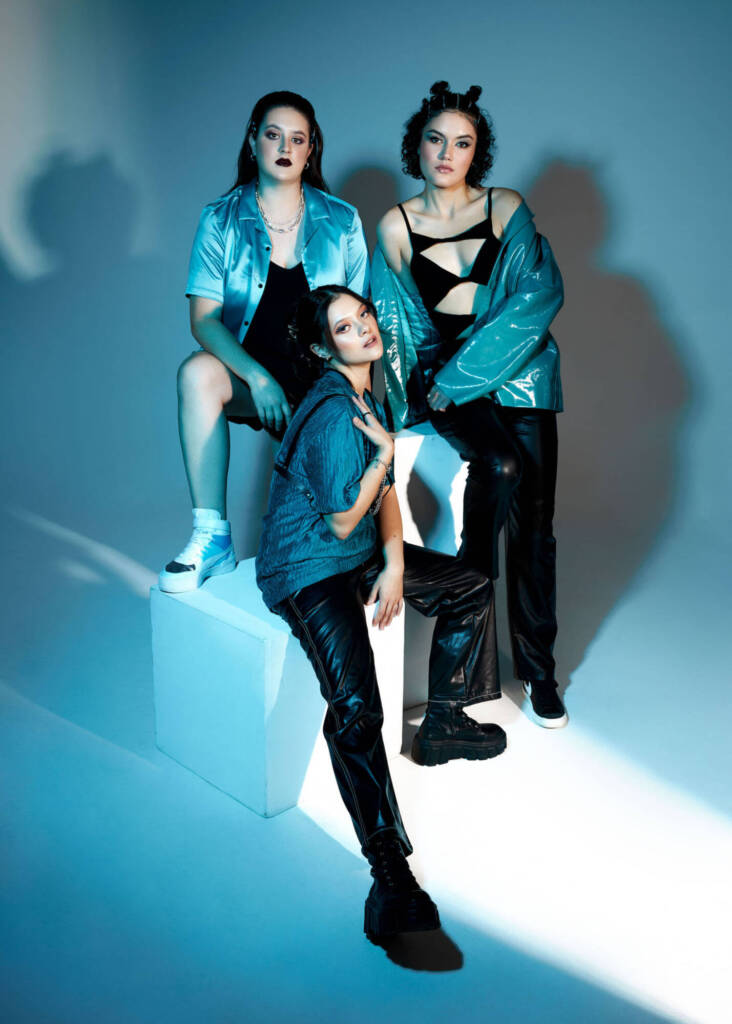 1. When I'm feeling a little depleted or sad, something that gives me a little warm hug and gets me feeling RESTED is having a nice hot shower, boiling some tea, getting into bed, having a little sweet treat organized while watching some silly YouTube or a show that I'm watching at the time. Alone time and ultimate comfort is key for me when I've got a lot swimming through my mind, I like to feel the most cozy I could possibly feel.
– Kerry
2. One thing that always makes me feel better if I'm feeling down or blue is putting effort into making a friend feel special by making them a card or a gift or writing them a letter. There's something about writing down how much I love someone or channeling it into a thoughtful gift with no occasion that reminds me how beautiful life and people can be. The people in my life are so important to me and reminding myself of that never fails to cheer me up 🙂
– Izzy
3. When I feel blue I like to put on the Hans Zimmer Live in Prague Concert DVD and listen and watch the killer muso's play two and half hours of legendary music that has scored some intense and epic scenes on screen. It is always inspiring and motivating so I feel so much better after diving into Hans' world.
– Libby
4. Making Rehearsals a Safe Space – we are colleagues and band-mates, but most importantly, we're friends. We've been playing music together for over 5 years, and we've been present in each other's personal lives through some of the hardest and darkest times. There is so much love between us and it's so important to show up every week and know that there's no judgment and no pressure to put on a front if you're going through something heavy. We feel like our friendship really comes across in how we write and how we play together live and we wouldn't have it any other way.
5. Song of the Day – when we start rehearsals or writing sessions, we always take the time to share a song we've been loving recently. Taking the time to listen to everyone's selection is such a nice way to support each other as friends no matter what headspace we're in or what genres we've been into.
Pink Matter's new single, Blue (prod. Squidgenini), is out now.