Interview with ioakim by Sara Regan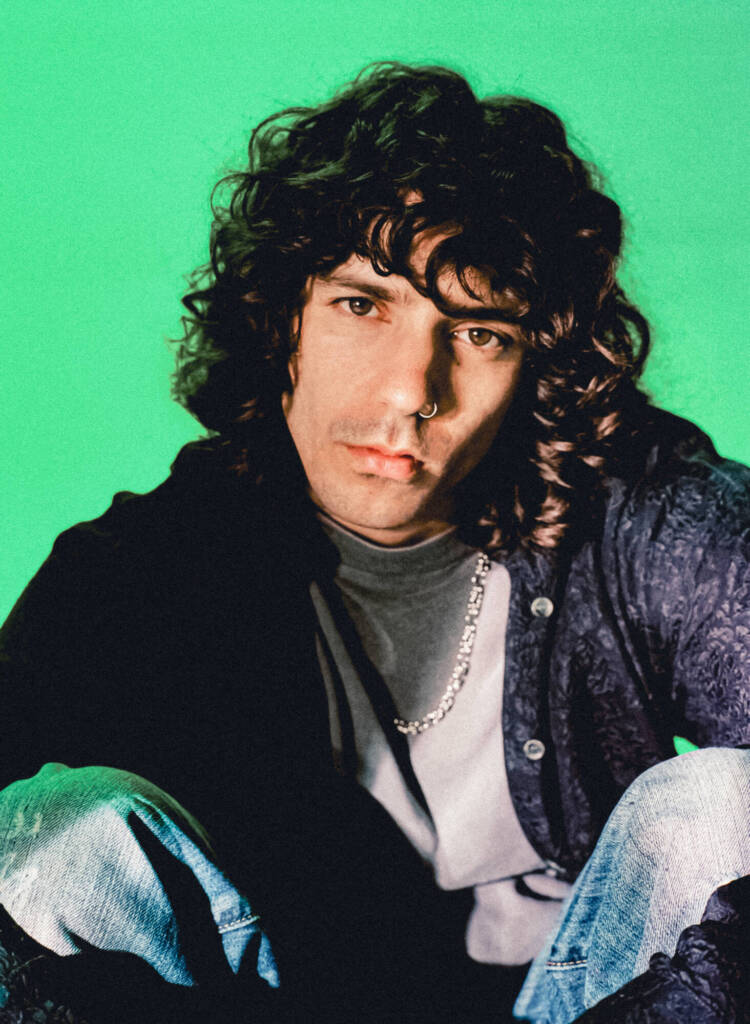 Ok ok, so I am about to introduce you to your new favourite artist. ioakim (I-owe-kem) is an Australian singer/songwriter who also directs his own music videos to date and designs/manufactures his own merch from up-cycled vintage! Basically the most perfectly talented person I've had the chance to meet so far.
Being a fashion fanatic, I had to ask ioakim about his creative control over his music videos and merch, where he shared that his full-time employment in the fashion industry has helped the 24-year-old gain knowledge and the skills to design and direct his own art for his merch, covers and videos. He prefers to have full control over his directing, designs and artwork to be able to get his visions and ideas completely and accurately brought to reality.
New to the indie-pop music scene, ioakim has already supported MAY-A and FLOWER KID on their headline shows and has performed a little gig at Splendour in the Pub after the first day was washed out. He's going to be on everyone's radios and Spotify playlists sooner than you think with his debut EP, feel something or nothing at all is released TODAY!
I got the chance to chat with ioakim over Zoom before the release to ask some juicy questions. We were both comfortably chilling in our houses, when I discovered that the EP was mainly made straight from ioakim's bedroom in Sydney which he considers to be a 'safe space' to create music. He talks about how he enjoys being able to work in a carefree manner on his own terms. ioakim mentions that working in a studio requires more "collaboration" which he also loves, but being able to work without time pressures and take YouTube breaks is what ioakim finds to be best for his music. Listening to the EP again, it's hard not to hear the nostalgia and dreamlike themes throughout and now I know this is all thanks to his safe abode, aka his bedroom.
The title of the EP, feel something or nothing at all stems from a tagline that came from his second single tongue tied released in 2021. ioakim shared with me that he wanted to expand on the phrase with this EP. He told me about his experience during lockdown and the emotions involved in his journey of self-discovery that inspired the title.
ioakim shares that he doesn't want to force his listeners to feel or interpret his EP in a certain way by 'putting words in their mouths' and rather is quite keen to see how the tracks carpools and kids should know better would be received by listeners as they can be interpreted a few ways, while other tracks he thinks will be pretty clear to understand.
ioakim elaborated on the backstory behind the hit track, kids should know better, sharing that it's about being ghosted and how he believes that people should know better and that we should all have the decency to respond to a text. Yes, if you're reading this and you've ghosted your date before, this song might sting a little.
The singer/songwriter is about to head out on his first ever tour in Melbourne and Sydney, so I asked him about previous live performances supporting MAY-A and FLOWERKID where he reflects on feeling so welcomed and comfortable thanks to the wholesome crowds at the shows. But he is super keen to start performing his newly released songs, especially carpools as the banger is going to "go really hard" in the crowd, ensuring for a great night.
Despite ioakim having the EP kept under wraps for 6-12 months, he is super keen to be able to share his fresh work with the world, and he has made sure that he will not let you down, but rather leave you hanging out for more music!
Make sure you catch him at a show near you:
Oct 22 – Syd Headline @ Golden Age Cinema
Nov 04 – Melb Headline @ Yah Yah's