Interview of Chloé Hayden by Hannah Forsdike
Actor, model and disability advocate Chloé Hayden shares her experience growing up neurodiverse, finding her true self and the need for representation in her book Different Not Less.
Chloé is a friend of Ramona, who we've had the absolute pleasure of interviewing in the past. To say Chloé has been busy since the last time we spoke would be an incredible understatement. This year we've seen her walk in Australian Fashion Week's first adaptive runway, Star as Quinni on Netflix's reboot of Heartbreak High, and most excitingly release her book, Different Not Less!
Different Not Less is a neurodivergent's guide to embracing your true self and finding your happily ever after. In the book, Chloé speaks candidly about her experiences, creating an invaluable resource for neurodivergent and neurotypical readers alike. Ramona Magazine was lucky enough to speak with Chloé about the book…
You must be on cloud 9 right now, between your standout Australian Fashion Week runway moment early this year, Netflix's Heartbreak High and your book! What moment has been your personal highlight throughout the actualisation of all these projects?
I never saw myself represented in the media growing up, and the heart of where all of these mind blowing things that I'm getting the privilege to experience lie is the fact that all of these achievements are finally giving voice to the neurodivergent community and to representation that I never, ever saw growing up- and to play a sprinkle of a part in this movement is so incredibly overwhelming and exciting.
Your book, Different Not Less, is not your run-of-the-mill memoir, how would you describe the book?
Different, Not Less is a lived experience guide to neurodiversity, disability and creating a kinder and more accessible future. I use my own life, experiences and journey to relay this information- because lived experience and having walked the road that you're trying to fix is so much more important than someone who has never walked that road at all.
How did you find the writing process? What did you enjoy? What did you find challenging?  
Writing has always been my outlet- my career started out as a blogger, and before that I would spend every day getting lost in worlds that I would create with pen and paper. So in that aspect, I found the writing process incredibly fun; it's something that has always been a part of me, and having the go ahead to word vomit 300 pages of my story and information about disability (both things I'm incredibly passionate about talking about) was brilliant! It didn't come without its challenges though; I was writing my book the same time as I was filming Heartbreak High however, so some days I'd be filming 16 hour days, have to run back home to write my book, or would pull out my laptop between takes on set to write! It was absolutely hectic.
The book definitely has a creative format; chapter artwork, lists, pull quotes etc. How involved were you able to be in the design of the book? Did you have a vision?
I knew from the get-go that I wanted this book to be inviting aesthetically- I wanted it to pull people in, to be a visual representation of the colourfulness of our lives and the fairy tales we've all embarked on- I know you shouldn't judge a book by it's cover, but it sure helps when the book feels fun and inviting. I wanted it to look fairytale-esque, but also have my favourite aesthetic of 70's and psychedelic elements; I was super involved in the process and knew exactly what I wanted to achieve, and the design team did beautifully, I'm stoked!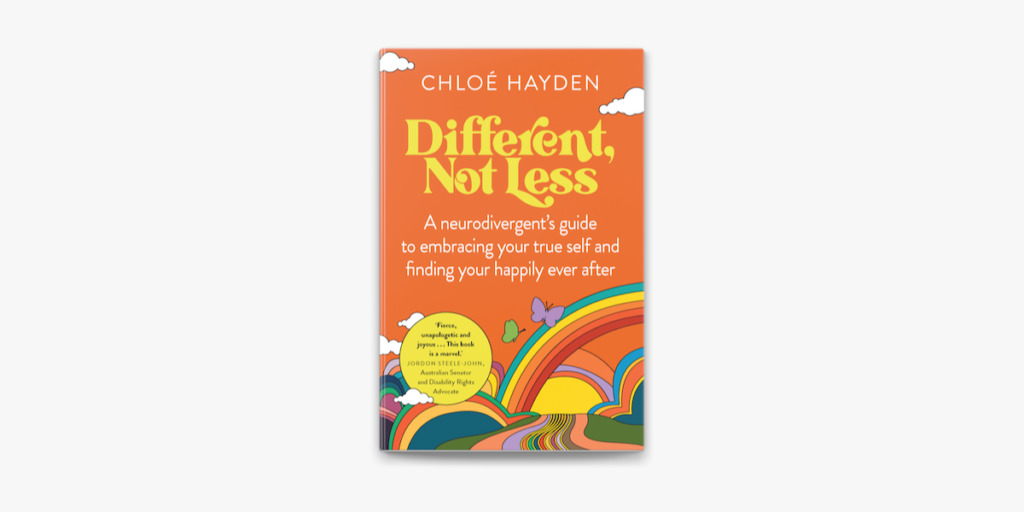 You do a fantastic job of framing this book for a range of readers. I'd love to know how you achieved this? As a neurodivrtdent person, did you know what you wanted to communicate to neurotypical folks? 
I wrote this book the same way I speak- it's fun and humorous and has loads of 'Chloéisms' as my family calls it, but it also tackles harder pressed topics that aren't often spoken about, and deeply need to have awareness spread to. I knew that I wanted to write this book so that anyone that needed to read it, could. It's a global effort, from every single aspect of humanity and every single type of human being, to create a more accessible, kind world- so I needed to make sure my book would speak to a range of different humans. I can't promote change if I'm preaching to the choir.
You use extended metaphors pulled from three animated Disney films to help strengthen your stories. With so many beloved Disney films out there, why did you choose these three? What was special about them?
Truly, I could have used any film and find the same metaphors within them; but I've always had an affinity for those three films specifically, and I think their stories and metaphors are very obvious to the point I'm trying to make within them- that, and those movies speak to generations of humans. Any generation can hear a The Lion King metaphor and immediately know the reference and reasoning.
I really appreciated your transparency when talking about school, and how difficult those years were. Unfortunately, I'm sure many readers will be able to resonate with at least parts of your story. Do you think your school experience would have been different if you were armed with a diagnosis earlier? 
In some ways, absolutely. I know at the very least my parents would have understood why school was so hard, and would have then given me the support I needed during that time. But, truly? I think even with a diagnosis, it wouldn't have made any difference- that's why I started getting home schooled the same day I got my diagnosis, because we all knew that even with a diagnosis, going back into the mainstream education system was a death sentence. I think getting a diagnosis earlier wouldn't have necessarily made school easier, but would have given my parents a reason to pull me from it sooner, and therefore not have the trauma I have today because of it.
To follow on from the last question, as someone who has worked in and with schools, do you see much of a change in schools today? Do you feel that they still have a long way to go?
The mainstream education system still has an immensely long way to go when it comes to not just accepting and supporting autistic students, but simply as a whole in general. Our education system prioritises and teaches sameness, and for those who cannot conform, we're condemned, bullied and ostracised. 97% of autistic students face difficulties in the school system, simply because it's a system that refuses to accept what's different, even when often what's different is what's better and more remarkable (look in any of the top people in any chosen field- I promise you most of them are autistic.)
Things are changing though; school is an immensely different place than it was when I was in the system. The fact that I've been asked to speak at schools across the globe showcases that there are people in the system genuinely fighting for change- but there is still an immensely long way to go.
You obviously had to reflect a lot on your education to write about your school years. Is it been strange or cathartic to now be playing a high school student on Heartbreak High? 
Playing a high school student was actually oddly incredibly healing for me. I remember walking into set the first day we were shooting the school scenes and having an anxiety attack- it was 8am, I was wearing a back pack, I was walking into school gates- and, ironically, the school bell had just gone off. I felt like I was thirteen again, walking into school and preparing for a day of torture… But, being able to play Quinni, a high school student who, although she has her struggles, genuinely likes school, and has an incredibly supportive system within her friends and her teachers was really quite cathartic. I got to live the high school experience that I never had.
You wrote about some heart wrenching and difficult topics in this book, and you wrote a little about how you coped with writing about such heavy, personal subjects. What drove you to be so vulnerable in the book? What kept you typing when your hands were shaking on the keyboard?
I truly believe that everything happens for a reason- and, while I went through some things that I would never, never wish upon anyone, and that I would rip out of my own story in a heartbeat if given the ability to, I can't do that. And so, I see what happened to me as a chance to not be a victim, but to instead share my story, share what I now know, and do everything I can to make sure it doesn't happen to others. It was one of the most difficult decisions of my life to share this information with the world, and entailed many conversations with my therapist, with my family, and many breaks. But, the knowledge that it could spread awareness and help one person feel seen, and heard, and helped was what got me through.
In the book, you're honest with the reader about what chapter was the most difficult to write. But what was your favourite? Whether it be because it was cathartic to write or because it sparked joy in your heart! 
I don't know if I have a favourite chapter! The entire book feels incredibly cathartic to write because it's information I've been bursting to share for such an incredibly long time.
Ramona is a community built by and for creatives. The prospect of seeing the end result of your hard work is something our readers can certainly resonate with. Can you describe the moment you first held the completed book in your hands? How did it feel to see it go from your notes, to becoming a completed product available to readers? 
I had been doing press for Heartbreak the whole day my book was released, so didn't think I'd get an opportunity to actually see it in stores on release day. But, I was in the airport at 10pm, looking through a little newsagency while I waited for my flight, and bang on front and centre was my book. It was truly euphoric- I was crying, I was snotting, I collapsed in the middle of the airport newsagency. Every time I go out and see my book in Dymocks, or Big W, or Target or wherever it is, the excitement levels remain the same.
Who are you hoping this book will reach? 
I wrote this book for the 13 year old sitting in a psychologists office who has just been given a diagnosis  and has no idea what this means for her, I wrote it for her parents so they could read it and better understand their child. I wrote it for teachers, doctors and other professionals, I wrote it for the neurodivergent, and for those who know people that are neurodivergent- I truly think every single person can, and needs, to get something out of this book.
What do you hope readers take away from your book?
Who you are is exactly who you're supposed to be, your Happily Ever After is coming. I promise you.