Interview by Kara Zosha
It's the early 2000's and the post-punk revival scene is taking the world by storm, when the Yeah Yeah Yeah's emerged from NYC. Their debut album Fever To Tell released in 2003 and the trio had fans hooked with their electrifying sound. Now, after almost nine years without any new music, The Yeah Yeah Yeah's are back and better than ever with their new album, Cool It Down. Join me as I chat with front-woman Karen O and guitarist Nick Zinner about the record and their journey as a band.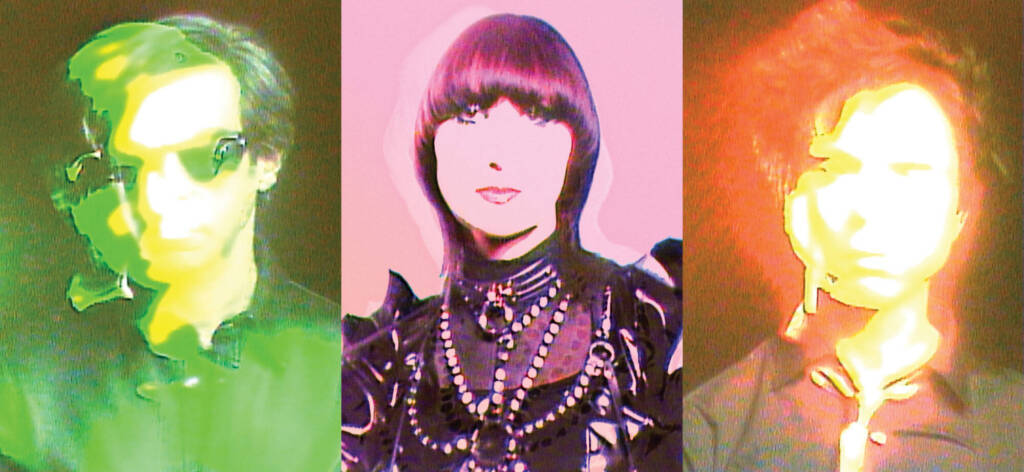 How does it feel to finally be releasing music with the Yeah Yeah Yeah's after such a long time?
Nick Zinner: It feels amazing. It might be corny to say but, each release we put out feels like a new chapter. It's a new exciting release for us, it feels very euphoric and hyper-present.
Karen O: It's a very different chapter for us as a band. It's super rooted in this overwhelming desire to connect with the music community again. We felt an urgency to connect, share, and feel the dialogue between us and the world, and our fans. It felt more pressing and important than it did in a long time.
Did Covid have an effect on that urgency to connect with the music community?
Nick: We made plans at the end of 2019 [with] such an innocent outlook for 2020. Any desires we had originally in that discussion in 2019 got hyper-magnified by everything.
What was it like to finally be able to perform your new music together?
Karen O: It's very overwhelming because, for one thing, there's been a very welcoming, loving, warm reception for us. Just the record release show was the biggest show we've played in New York. We've never played a show with that much electricity in the air, probably not since our show in 2009 at the Radio City Music Hall where I felt that kind of wild excitement and reception. It was very overwhelming in that sense of being back, being celebrated, people responding to the album, and this new wave of AAPI female-fronted rock groups; which really wasn't a thing the last time we were putting out music. All of those things combined made it [the Record Release show] and the Hollywood Bowl very special and meaningful for us.
Nick: It brings a new and higher level of gratitude, not that it wasn't always there. Recognizing the value of these beautiful shared joyous experiences after so much hurt and terribleness in the world makes these moments ring brighter for me.
What's it like working in the band now compared to when you guys started over twenty years ago?
Nick: It's the same, but totally different. In so many ways it's simpler, easier, and more natural. I don't care about a hit or anything now, that might have been something in the back of my mind then, but now it's what feels right and exciting. Like what makes the hair on my arm stand up because I know if it's gonna do that for me, then our fans will be excited too.
Karen O: There's things that never change like this strange chemistry that me, Nick, and Brian have that just remains intact and when we tune into it, it feels like the same feeling of reconnecting with an old friend or soulmate … I think alot of our fellow artists are finding it really difficult postpandemic to survive and they're having to cancel tours. There is so many layers and challenges that was already there before the pandemic, so we recognize that we don't have to be on the road like 100 days a year. Which is really helpful and we are super grateful.
Will there be any touring in the future for Cool it Down?
Karen O: We're definitely going to play more shows next year, more than this year I imagine – that's in the works.
You've mentioned everything is "the same, but different" referring to working in the band, but what's the journey been like with your fans?
Nick: It feels amazing, especially now it's like this crazy thing where fans are coming with their kids and vice versa.
Karen O: We have many generations coming to our shows, which is incredible! My kid and his friends came to our show at the bowl and for alot of them it was concert, which is an honor and super meaningful… We always pour our hearts and souls into each record, but this one felt different. It felt even more so because of after living through four years of Trump and three years of a pandemic there was alot of uncertainty, suffering, and darkness. To be able to make music that brings joy in the process is deeply meaningful for us.
Do you guys have a favorite song on the album?
Nick: Even though technically it is a short record every song has an equal and weighty story behind it. I love the story behind Mars though; I think there is something very sweet and allincomposing of the whole cycle because technically that was the first thing that existed for the record and it was the last track that Karen ended up writing something really beautiful and totally unique for.
Karen O: And it [Mars] was quite personal – it was a poem I wrote when I was on a little getaway with my son just watching the sun set over the ocean and having his voice in there felt like a great way to end the record, sorta like the voice of the next [generation] of the future and hope… The sleeper hit for me was Black Top because when Nick and I were coming up with that it was super minimal and it was one of the few songs I immediately wanted to put some gibberish vocal on. There's urging for closeness and something romantic and bittersweet about it. There's a little bit of extra magic yet to be discovered on that track.
If you could go back to 1999, what would you tell yourself?
Nick: If current me told old me that we'd sell out the Hollywood Bowl in 2022, I wouldn't believe it. There's no way old me ever thought that would've been possible.
Karen O: I would say represent because that's more important than you know. Have faith, stick to your guns about your vision, and try and have a good time. It's so wild how things turn out…It's really important to follow through with your vision and nevermind all the demons and insecurities because that's being vulnerable and that's your greatest strength.
Stream Cool It Down
All things the Yeah Yeah Yeah's