Writing by Dilpreet Kaur Taggar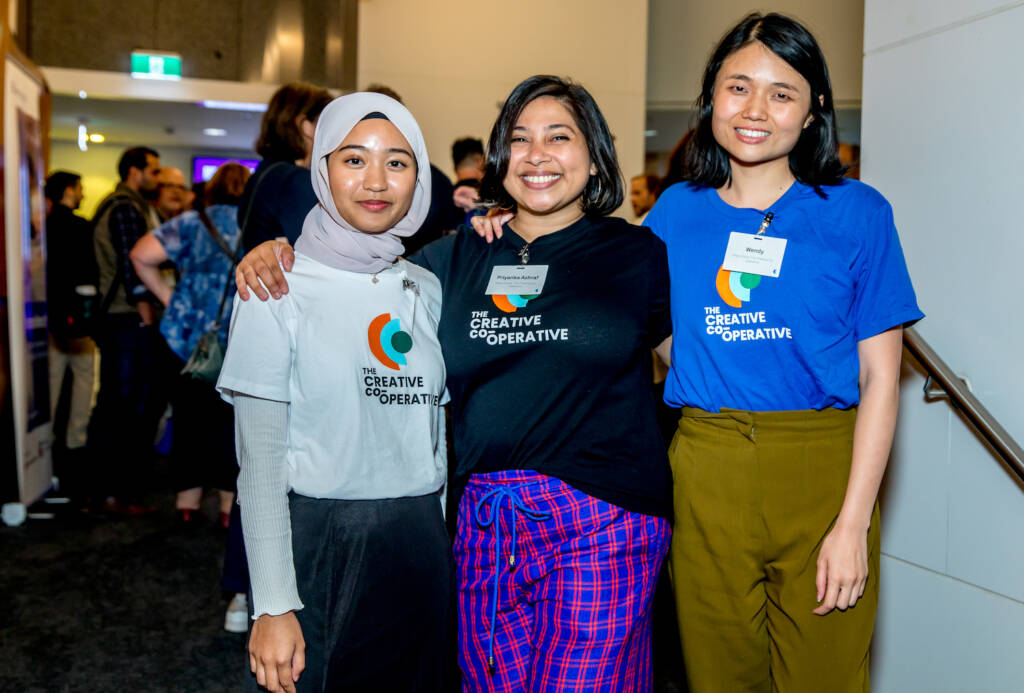 The Creative Co-Operative (CCO), is Australia's first 100% Woman of Colour social enterprise working to close the intersectional and intergenerational wealth gap specifically by supporting community across entrepreneurship and accessing in-time culturally appropriate mental health and wellbeing support.
The CCO recently launched Maya Cares, a chatbot that supports Aboriginal and Torres Strait Islander, Black Women and Women of Colour to report and recover from racism.
Maya, more of a "big sister" than just a chatbot, offers a safe and confidential space for women of colour to report incidents of racism, access resources and support, and connect with a community of like-minded individuals.
It was after a racist attack in 2020 that founder Priyanka Ashraf felt the impact of having to process the painful experience and realised she had no idea where she should report it.
And so, with an unwavering goal to support thousands of other women, Maya Cares was born. It took two years and speaking to more than 250 Aboriginal, Black and Women of Colour with lived experiences of racism to create a resource that could support women to not just report racist attacks but gain legal information and community support – essentially helping to generate racial literacy in a country that often refuses to address these issues.
Coinciding with its launch, The CCO also held a panel talk on the harm of racism and internalised racism on women. The discussion, moderated by the organisation's founder, Priyanka Ashraf, featured insights from Dr. Kathomi Gatwiri, Asami Koike, and Dr. Nilmini Fernando. The discussion delved into the deep-rooted issues of racism and internalised racism that women face as a result of systemic racism, highlighting their experiences and the challenges they confront in their everyday lives and how to respond to them.
Dr. Kathomi Gatwiri, an associate professor, DECRA Fellow, and president of the Australian Women & Gender Studies Association (AWGSA), shared her perspective on the systemic nature of racism and the intersectional experiences of women of colour. Asami Koike, founder of Shapes and Sounds and a Top 40 under 40 Most Influential Asian Australians awardee, discussed the importance of self-care and community support, and Dr. Nilmini Fernando, a critical intersectional feminist, highlighted the need for holistic approaches that consider the interconnectedness of race, gender, and class in addressing systemic oppression.
The event had 227 registrations and the panellists provided critical insights into the impact of racism, emphasising the need for collective action to effect meaningful change.
Reflecting on the panel, Priyanka says,"I feel like we need to create safety to have these conversations so that we can talk about the elephant in the room, our own internalised racism, rather than be silenced from speaking up out of fear of being criticised or shut down".
Internalised racism continues to be a hush-hush topic, but in the hour-long panel discussion, it was evident that it needed to be talked about now more than ever. Noting the desire to be submerged into whiteness is rooted in self-hate, Dr. Kothami said, "Before you can expel your own ideas of rejection about not being a white person and projecting it to other communities, there is something inside of you that has to absorb that violence for yourself first. Remember that is an expression of something inside yourself that you don't like and is projected towards other people or yourself."
But is "internalised racism" the correct term, even? While prepping for the discussion, Dr. Nilmini preferred to call it "internalised colonisation" instead. When asked for the reason behind the shift in the language, Dr. Nilmini said, "They are not separate. Race was invented through colonisation. It was a justification for slavery, the idea of race and the construction of racial hierarchies". She also added why any work around race had to be grounded in First Nations communities, adding, "We're in Australia, and it's so important for me, and in any settler colony, to ground any race work we do in the struggles, and the experiences of First People's experiences of race. And then from there to collectivise, in our race struggles to work in solidarity. More than solidarity work as co-conspirators."
Another adjacent concept to internalised racism is Xenophobia. How do we grapple with the "othering" women of colour can often feel from their own communities? Leading with a personal example, Asami shared, "For someone like me as an Asian diaspora person or a Japanese diaspora, when I go back to Japan, I really feel like I also don't belong in Japan, like, people look at me on the street, and they can kind of smell that I grew up overseas." She continued, "I noticed myself slipping into these habits when I go to Japan, trying to really pretend "No, no, no, everyone, I'm Japanese. I'm not like all the other tourists here. I'm Japanese". And I know that it's internalised racism because, why do I have to work so hard to prove I'm the same as everyone else?" 
The panel gave space to highlight the complex and multifaceted ways racism and internalised racism affect the lives of women of colour – there is no one way.
Maya Cares is an important step towards creating more safety for Aboriginal and Torres Strait Islander, Black and Women of Colour to respond to and heal from racism. We invite you to check it out here and share with those around you who could be supported at a time they need it.
"By continuing to have open and honest conversations about the impact of racism on women, we can work together towards creating a world where everyone feels seen, heard, and valued," says Priyanka.
To watch the panel discussion in full, please register here and we will send the recording out to you directly.