Writing by Peta Hooke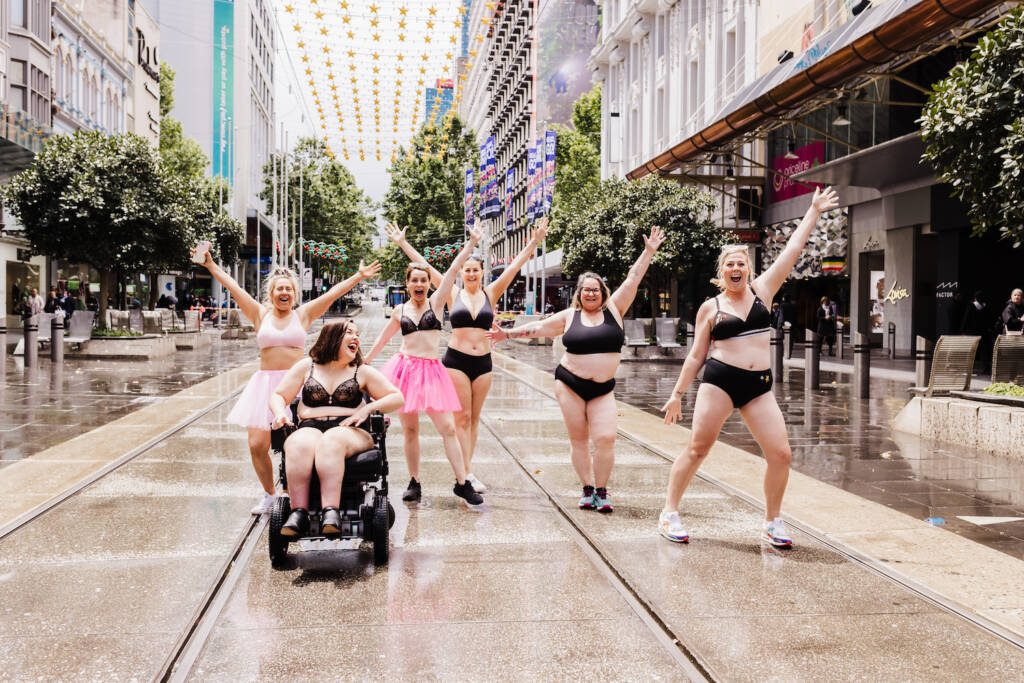 I am only just starting to understand how damaging the 2000s were for our body image.
I was a product of the time. I was inhaling every glossy magazine; trying to find the perfect low-rise jean (an impossible task) that would make me look 'cool' like Lindsay Lohan.
I still remember going into a surf shop wanting to buy a jumper from the 'it' brand of the time. My mum asked the shop assistant if there was a size 16 I could try on. The shop assistant said she was sorry but the brand doesn't go up that large as the brand doesn't want people of that size seen in their clothes.
I was crushed. Size dictated beauty and according to this brand, I was not thin and beautiful. The only social currency that seemingly mattered during the 2000s.
Growing up, I was keenly aware that my body wasn't society's idea of what the 'ideal' body is. Admittedly, a tricky thing to live up to when you have an obvious disability like Cerebral Palsy and use an electric wheelchair for mobility. Even today, there is little representation for disabled people to look up to when it comes to having a healthy body image.
I have never not liked who I am and I have always been ok with my disability. But even with my confidence, I did not escape the feeling of pressure to be 'thin'. When I can't even walk to the fridge, let alone exercise regularly, it is always going to be a battle for me to gain self-acceptance.
I struggled with envy, watching my thin, able-bodied friends eat hot chips after school because how they looked gave them permission to do that. The guilt of what should and 'shouldn't' be eaten followed me all day long.
Fast forward 15 years and I now find myself invited by The Melbourne Fashion Festival to create a flash mob.
This year, on International Women's Day on the 8th of March at 6 PM, my very good mate, Heidi Anderson and I are planning to show the Australian Fashion Industry that EveryBODY is beautiful.
The EveryBODY is Beautiful event is going to be a flash mob of people in just our bras and undies. My disabled body is finally being seen as equal to others.
Heidi Anderson, an author and ex-radio host who once confessed live on radio that she hated her body and refused to show her arms in public has since embarked on a journey of self-love to break free from her negative body image.
All these years later she is sharing what worked for her. How she went from hating herself to being drunk on confidence.
Growing up, Heidi couldn't relate to anyone on TV. There were no celebrities in the 80s and 90s with bigger frames. A memory that is burned into the brains of many Australians is when Ian 'Dicko' Dickinson famously told Paulini Curuenavuli, on national TV, she should 'choose more appropriate clothes or shed some pounds'.
Magazines didn't give any respite. They were filled with diet tips and before and after photos.
The only time Heidi ever saw someone like her, they were being told to lose weight. She then did what many of us did. Heidi internalised the narrative that 'being skinny means you are successful.' This lie stayed with her for almost 20 years.
One day, to help promote her new book Drunk on Confidence she invited me to strip off in public. My first thought was, no thank you.
But what drove my decision to say yes was my work in disability representation.
Disabled people are not given the opportunity to be seen or heard in the media or the fashion industry enough. We are often the unseen minority.
So, I found myself walking down Bourke Street Mall in just my bra and undies with Heidi and a group of amazing women. It was an adrenaline high like no other. I was so proud to represent what a disabled body can look like and I was so proud that I faced my fears.
Through the power of social media, The Melbourne Fashion Festival saw our walk down Bourke Street Mall and invited us to be a part of the festival.
Through showing our bodies, bodies that many can relate to but who haven't been represented, we hope to help change the narrative on what is considered beautiful by the fashion industry.
We have had enough of the unattainable bullshit of perfectionism that the fashion industry demands and that a body can be 'in' and then 'out' of fashion. We want ALL bodies to be seen as beautiful.
We want to change the narrative and show that all bodies, regardless of shape, size, race, age or ability, are worthy of love and acceptance. It's time for the fashion industry to truly embrace diversity and body positivity.
Since announcing we are going to do this, many friends have been asking me where all this self-confidence has come from. I think the answer is, it has always been there. It's just been hidden away for a while.
When you think about it, as children, we are not concerned with how we look to other people. There are no self-criticisms, just pure self-acceptance. We are who we are. Living happily satisfied. Eating icy poles under the hot Australian sun after running through sprinklers in the nude.
Heidi and I now refuse to be defined by the number on the label.
We think our bodies deserve to be considered beautiful and we know that other people feel the same way but two people regardless of how passionate (and let's be honest, loud) we are, do not a flash mob make. We need YOU!
Join us on March 8th and feel the power of being surrounded by others who feel EXACTLY like you do. Let's embrace the beauty in all our bodies just like we did before we were told not to.