Writing by Toni Stanger // Illustration by Joy Gomez Kolber
Writing by Toni Stanger // Illustration by Joy Gomez Kolber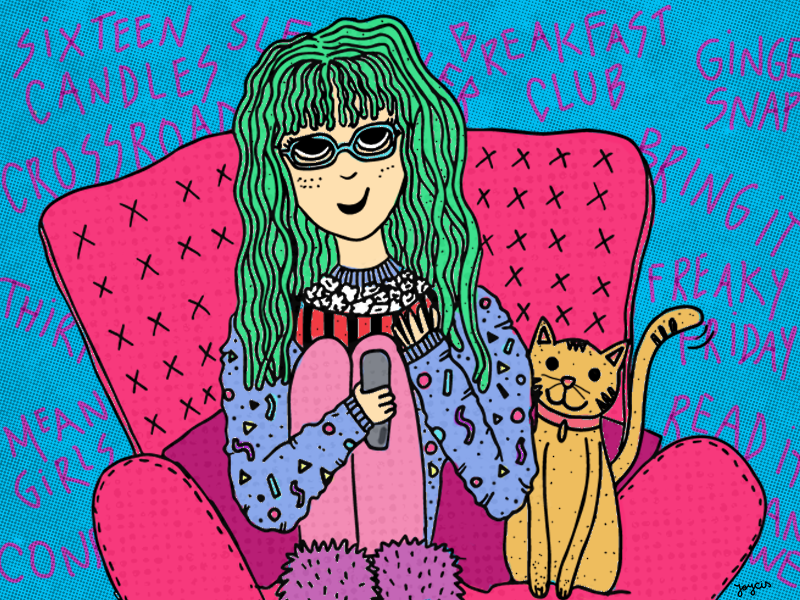 Coming-of-age films are a genuine treasure to cinema. And so is John Hughes, who brought us the 80s classics, Ferris Bueller's Day Off, The Breakfast Club, and Sixteen Candles. Unrelated to Hughes, there's also the incredible Heathers, Clueless, and Mean Girls—my favourite unofficial trilogy of films from the 80s, 90s and 2000s. But what about the films cherished by us 90s kids, the ones that came out in the 2000s as we were growing up and entering our teenage years? There is always an incredible mixture of amazing and just downright bad coming-of-age films, but even the bad ones are pretty good. Here is a list of my favourites—good and bad—from the early 2000s. Each film stars female leads and focuses on the girls and young women as they deal with friendships, romantic and sexual relationships, popularity, puberty, family, and getting older—things we can all relate to.
Sleepover (2004)
Sleepover tells the story of four best friends who have one last sleepover in the summer before they start their first year of high school. The four friends are a true mix of cliche characters: the average, "normal" one (Alexa Vega), the slim blonde (Mika Boorem), the redhead (Scout-Taylor Compton) and the chubby one (Kallie Flynn Childress). During the night of the sleepover, the most popular girl in school (Sara Paxton) and former friend of Julie (Vega) barges into their bedroom—isn't that what all popular girls do?—and challenges them to a scavenger hunt, which they chose to accept in an attempt to drop their nerdy status. The night is full of fun and mischief as they sneak out, slip into nightclubs, attempt to steal a boy's boxers, and more. It's a night out you and your friends could only dream of.
Confessions of a Teenage Drama Queen (2004)
When Lindsay Lohan was at the peak of her career, she portrayed Mary Elizabeth Steppe, who prefers to go by the name Lola. She fears her life is over as she leaves New York with her mother and younger twin sisters to move to a suburb in New Jersey. With her inclination to lie in the hopes of seeming more interesting, she befriends Ella Gerard (Alison Pill), a fellow outcast, and they plot a way to attend the last-ever sold-out concert of their favourite band, Sidarthur. Amongst the chaos, Lola is also battling it out with the most popular girl in school, Carla Santini (played by none other than Megan Fox), for the lead role in the school play.
Bring It On (2000)
In this cheerleading flick, Kristen Dunst stars as Torrance, the new team captain of the Toro cheerleading squad at Rancho Carne High School in San Diego. They are all lined up with a perfect routine to perform at the national championships, but have to act quickly when they discover their popular choreographed routines were actually stolen, unbeknownst to them, from another squad by their bossy, mouthy ex-captain. This film has so much to offer, with Eliza Dushku as Missy and Jesse Bradford as Missy's brother Cliff—the love interest of Torrance. Not only is the cast perfect, but so is the dialogue, the soundtrack, the cheerleading choreography, and the way the relationships work. Plus, Missy finding her place with the most unlikely of people after switching schools reminds us all not to judge those different from us no matter which side you stand on.
Crossroads (2002)
Crossroads opens with three young friends burying a box of memories and dreams and making a pact to open it at midnight during their high school graduation. However, by the time they reach graduation, these three friends have separated, thanks to the clique system of high school: one is Lucy, a good-girl portrayed by Britney Spears (in what was her first, and hopefully last, film role), the second is an engaged prom queen (Zoe Saldana), and the third is a pregnant outcast (Taryn Manning). They all reluctantly open the box, wanting to get it over with, and end up on an impromptu road trip together to Los Angeles, for varying reasons. Whilst on the road trip, the girls argue, bond, and wonder if the guy who is driving them is really a murderer. This is a highly underrated, touching film and a definite treat for any Britney Spears fan.
Mean Girls (2004)
I'm sure you've all seen Mean Girls by now as is it one of the most popular and most quoted teen films to exist. Lindsay Lohan stars, in what is probably her most successful film, as Cady Heron who moves to Illinois, USA from Africa where she was home-schooled, and begins attending North Shore High School. Whilst there, Cady begins to find herself taken in by the popular clique, referred to as The Plastics. Things seem to be going well as Cady gains immense popularity and learns the ropes from queen bee Regina George…until she falls for Regina's ex, Aaron Samuels. "On October 3rd, he asked me what day it was. Two weeks later, we spoke again."
Freaky Friday (2003)
This is the last Lindsay Lohan film in this list, I swear—although you cannot deny that she is amazing in all these teen flicks. Lohan and Jamie Lee Curtis starred in the remake of the 1976 film of the same name Freaky Friday. Tess (Curtis) and her 15-year-old daughter Anna (Lohan) argue over everything and think the other has the easier life. One night, due to a magic fortune cookie, they switch bodies and get to know what it's like to live in each other's shoes—literally. This provides multiple problems, as Tess is set to marry her new partner and Anna is preparing to play a big gig with her band. The relationship between Tess and Anna is very realistic and there is nothing more equally fun and terrifying than imagining what it would be like to switch bodies with your mother.
Ginger Snaps (2000)
There is nothing better than a film that uses becoming a werewolf as a metaphor for female menstruation. Ginger Snaps tells the story of two outcast sisters—Ginger (Katharine Isabelle) and Brigitte (Emily Perkins)– who are obsessed with death and spend their time recreating disturbing and gory deaths to photograph. On the night of Ginger's first period, she is attacked by a dog owned by the school bully and is wounded. Avoiding the hospital, Ginger's wounds heal fairly quickly, but she soon undergoes physical and mental transformations during her heavy period which worries her sister. Ginger begins to behave aggressively, becomes lustful, and starts growing hair from her wounds and all over her body. But what could be worse than that, right? Isn't that just puberty? What a gem.
13 Going On 30 (2004)
Jenna Rink (Jennifer Garner) celebrates her thirteenth birthday but ends up being humiliated by the popular kids, whom she's always wanted to be one of. Jenna hides away in her closet and wishes she could become thirty, flirty and thriving (don't we all?). With a little magic her wish is granted and Jenna wakes up as the thirty year old woman she is set to become. But there are some problems; whilst Jenna has missed the last seventeen years of life, she also finds out that being popular isn't all she had hoped it to be. Overall, the film is a pretty fun and heart-warming story.
Read It and Weep (2006)
The Panabaker sisters star in this Disney Channel Original Movie, which sees Jamie Bartlett's (Kay Panabaker) life change forever as her private journal is accidentally published and becomes a best seller. As she propels into stardom overnight, Jamie develops an alter ego, Is, who is portrayed by Danielle Panabaker. Now I'm not going to deny it, this is actually a pretty terrible movie. But I did enjoy it as a teen. The idea of a private journal going viral by accident sounds like every teen's worst nightmare, but the that it turned Jamie into a celebrity was just a ridiculous premise that sure as hell grabbed my attention.
Thirteen (2003)
After befriending Evie (Nikki Reed), the most popular girl in school, honour student Tracey (Evan Rachel Wood) finds herself in a whole new world filled with sex, drugs, and theft. Things start to take a toll on Tracey and her already-troubling home life as she willingly loses herself even further into the destructive lifestyle Evie has thrown her into. The film, which was written in only six days by director Catherine Hardwicke and a fourteen-year-old Nikki Reed, is loosely based on Reed's experiences growing up. Thirteen is by far the most intense film on this list and the only one with an 18 rating.