Interview of Surbhi Karwa by Preksha Sharma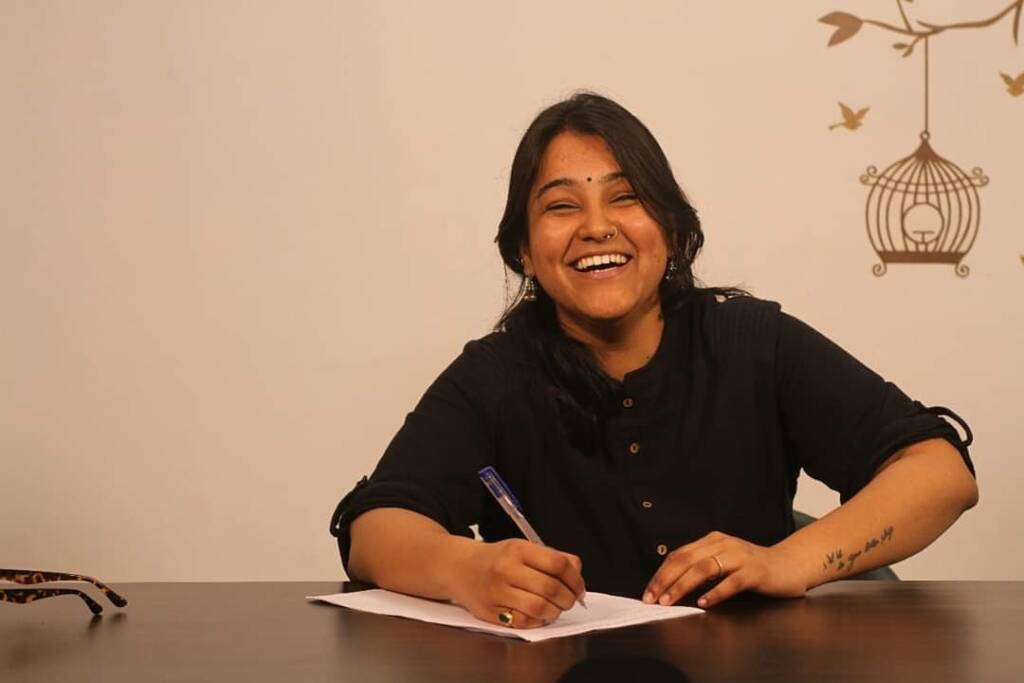 Hello Surbhi, how are you? Could you please tell us something about yourself?
Hi, thank you for doing this! My name is Surbhi Karwa and I come from a small city in western Rajasthan (India) named Jodhpur. I'm amongst the first generation of women who studied beyond school and went to college. The region of Rajasthan is infamous for its history of underage marriages. In my mother's generation, her sisters, and her friends were all married before they turned eighteen. But from my childhood itself, I was keen on being at the top of my class and studying with the encouragement of my mother.
Later I became the first girl to move away to another state and study law. I pursued a five-year integrated BA-LLB course and focused on studying the law and volunteering for legal aid work. I then moved to the capital city, Delhi and pursued my Masters in Law (LL.M.). Both at my LL.B. and LL.M. level, I stood first in my class.
My journey so far has been a learning process and continuously engaging with my own limitations, potentials and growth. The most fundamental aspect of my learning so far has been the fact that women are denied their potential and opportunities as a matter of routine on all fronts. But I have also learnt that women are not a monolithic identity, there are many women who suffer a lot on various accounts. Thus I have tried continuous learning and unlearning of my own prejudices.
After studying Law, I have worked in areas of research and training for judges of district courts in India, in Delhi. I have also been working for research and advocacy spaces, especially for laws relating to gender violence, age of marriage, family law and gender in India.
Since you talked about your life experience and how it shaped your education and personality, I would like to hear more about why you decided to study law and how your experiences defined the direction you and your work have taken after your graduation.
I wanted to study law because at some point in my childhood, I became very fascinated with the way judges work. I read something about judges in the newspaper and I became excited to become a High Court Judge. This later moved on to fascination with the kind of empowerment law brings with it -being a lawyer, comes with a certain recognition of your rights, and certain ability to fight for those rights. This is the reason I chose to study law despite considerable opposition from my family.
After graduation, I have worked on the intersection of gender and law, and my own experiences of restrictions on my choices have shaped the way I've done a lot of my work. Beyond paying my bills, my work is means to channel the anger I feel everyday towards restrictions, the patriarchy and the entitlement allowed on women's work and time. I see my work as a small part of the urgency of change in the patriarchal structure.
With my work and research, I now have a strong realization that law is not neutral and objective as it is presented to be. Legal system tends to go hand in glove with the existing caste and patriarchal structure and further those discriminations and misogyny. For instance look at history of India's rape rape trials! The credibility of a woman's testimony in courts is decided on the basis of her performance of being a 'good woman'.  Similarly, India's family laws too have furthered ideas of what a 'good woman's role is in her family.  Look at the way divorce proceedings work!
However, I still find value in engaging with the legal system and working with law, because as Sohaila Abdullah, a feminist and survivor herself says 'law sets the tone'. This is why I have worked with judicial education and judicial training i.e. the training of the judges who decide cases. Judicial education, I believe, is a potential place to bring change in the way courts and judges work.
We see that you have published a diverse range of articles and papers, varying from the law, women's rights, Constitutional Studies, etc. Would you tell us a bit more about them?
Apart from my classes, I primarily focused on two things, one is legal aid work and writing. I believe that writing is a means of change, and I've done writing at both academic level and journalistic platforms.
My most dear work has been a feminist engagement with Indian Constituent Assembly and Indian Constitution making process. I wrote and researched on women in Indian Constituent Assembly as part of my LLM thesis. It was presented at the University of Birmingham in April last month. I also taught the same as an elective course at National Law University, Delhi for a semester. I wish to take this work further as still there is a lot of research required in the field of Constitutional law and gender.
Apart from this, I have published on issues of COVID and domestic violence-related laws, in the National law school of India, Bangalore. I have another piece shortly to be published by the Gujarat National Law University, Gandhinagar,  in their feminist judgment writing project where we look at Indian Supreme court judgments from a feminist perspectiv. There are a range of feminist judgment writing project across the world in Australia, in the US, the U.K., and in Canada.
However, I have also felt that academic writings have to be more accessible to be effective in the actual lives of women. So, I have also collaborated with senior journalist Namita Bhandare and have written on family law and gender, inter-religious marriage laws and India's recent amendments to them.
Apart from that, I've also written and commented upon the emerging issues, book reviews, explainer pieces on issues around gender and law. I've also written another set of work on cinema, and how cinema can be used for law students to talk about these issues of privilege, and gender.
When did you decide that you wanted to study abroad and how did you decide on Oxford University for the same?
Oxford holds an important place for academicians and scholars. The Bachelor of Civil Law course is one of the most prestigious and highly held courses and I am glad that I have been selected!
I applied to Oxford because of its incredible faculty members. The people I have studied over the years as a part of my course readings or otherwise, and whose work I have taken inspiration from, many of them teach at Oxford. For example, Sandra Fredman. She is a faculty member in Oxford, who has done a lot of work on exploring the meaning of equality under the Constitution of different countries. I feel that I would benefit a lot from a critical and comparative perspective. This is why I applied to Oxford and got into it.
Please tell us something about your plans after graduating from Oxford. 
I wish to continue to do what I have been doing and to take up more critical projects. My work till now has largely been research/writing and legal aid volunteer work, and I plan on continuing doing the same with better skills.
I also wish to establish a women's legal aid clinic or a Legal Aid Clinic working with women, especially women prisoners who remain quite ignored within the legal aid movement. Women prisoners face a double disadvantage, even the prison rules do not see or recognize women prisoners and their rights as such and they're only sought as an additional chapter in prison manuals rather than recognizing women's needs and their social positioning and lack of property rights for women, and many such issues. This comes from my learnings while working at the Legal Aid Clinic in my university. We established the Legal Aid Clinic, created a network of lawyers and non-for profit organization for legal aid. So, this is my long-term plan after Oxford.