Interview by Rose Sejean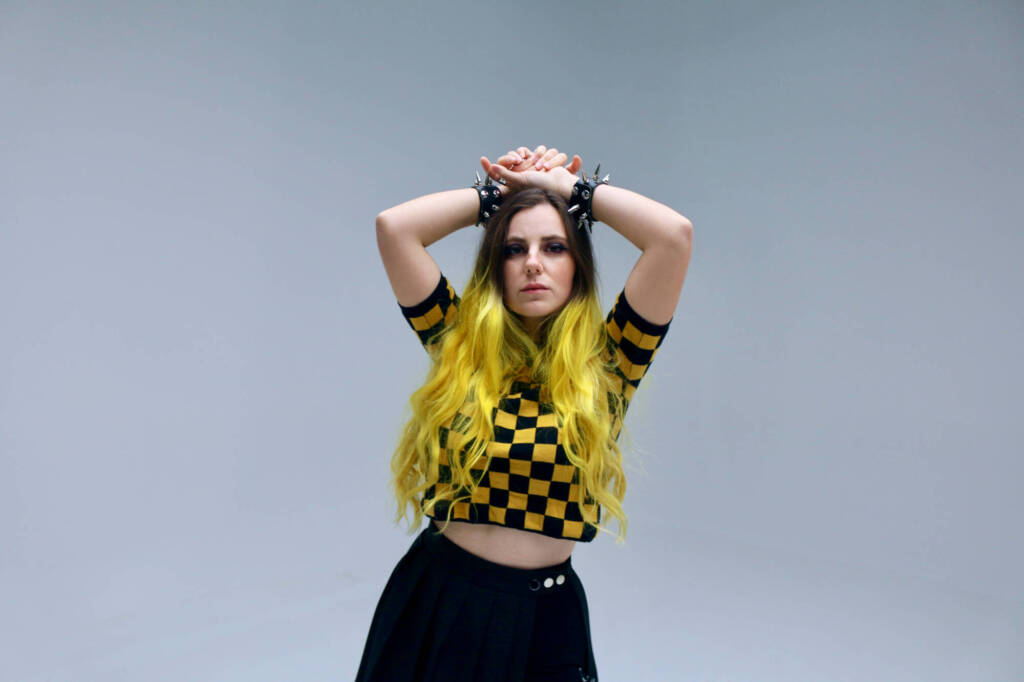 It's been 4 years since AViVA's viral debut 'GRRRLS' launched her into prominence, since then the multi-disciplinary artist has managed one of the most challenging feats in today's 'swipe left' society, staying relevant. Her distinctive brand of emo-pop has amassed upwards of 3 billion streams, a loyal following known as the "Outsiders", headline shows, and supports for the likes of YUNGBLUD.
Impressive for sure, but this artist is always one step ahead, in fact with each unsuspecting release, AViVA has been planting clues to a much larger unfolding story…
Hot off the release of recent single 'Melancholy' (Island Records Australia) comes AViVA's debut novel 'SELF/LESS' (Pan Macmillan Australia). Set in a dystopian society in which all forms of self-expression and creativity are outlawed. For AViVA the project fulfills a longtime mission of creating her own unique "multiverse that seamlessly merges music and literature".
I catch up with the L.A/Sydneysider over Zoom and am immediately taken by her home office set up – it's exactly as you'd imagine – a pinboard of witchy art, possibly from the new book, a trove of vibrant knick-knacks & memorabilia, and a gaming chair dominate the shot. It's like a scene from a comic book. The chair she stresses, was bought for "ergonomic" reasons, but what's undeniable from the get-go is this artist lives and breathes creativity.
Check out the interview below:
Let's talk about the early years, what were some of your defining music moments? 
Music has been a huge part of my family on both sides. We've been going to the theatre and musicals for as long as I can remember. I didn't really start listening to pop until I was in high school because my mum liked music from her time and even earlier, Frank Sinatra, Ella Fitzgerald... I remember when I found a CD of Kate Bush's 'The Kick Inside' in my mum's collection, it became my favourite album, even now I can listen to it on repeat.
As an artist who's constantly creating, how have you learned to cope with self-doubt? 
I think self-doubt is something everyone experiences in every line of work, but these days we're so lucky to have resources that anyone can have access to on the internet, or even for free at a library (in a non-Covid world!). Anytime I've felt unsure of myself, my go-to is to learn more about what it is that I'm doing, because the best way to equip yourself is through knowledge, and I'm proud to call myself a life-long learner.
You have an amazing online community of followers, over 800k in fact! In such a saturated 'market', why do you think people have connected with you the way they have? 
I am me, 100% and they know that. I really don't deal with bullshit and I don't care what people think – if someone doesn't like me, I love it because it means more to them than it does me. I'm candid and I share experiences from my life, whether it was being bullied as a teenager or had that feeling of otherness, and they get it. I truly value my fans and try to imbue meaning into everything I do.
Your single 'Melancholy' has been very well received and is particularly relevant in Australia, with lockdowns still in place – why did you want to explore the topic of depression? 
The mental health conversation is really important to me because it's affected so many people in my life. I think the more we see people we look up to be able to talk about things, the more we feel comfortable. I'm very blessed to have a family where no one was ever discouraged from having feelings – and I'm a highly emotional person – but I know not everyone has that. I want to give people something they can turn to when they don't necessarily have a safe space at home. The fundamental core of everything I do is around the power of self-expression and creativity defining who we are and giving us freedom and refuge from the pain of reality. 
Your new book 'SELF/LESS' follows 17-year-old protagonist Teddy as she rebels against her upbringing and discovers a secret world beneath the walled-in city where she was raised… The theme of the outsider seems to feature throughout the entire 'AViVA world' – why is that?
I've always been interested in the history of witches, the oppression of women that were considered different. My cultural heritage, which I'm very proud of is Hungarian, Romany and Scottish which all go back to witches. I think that's impacted how I view myself – I am different, and I want people to know I'm different. In high school I was a group drifter, when I was 16 I decided I wasn't going to try and be like anyone else and that's when things really turned around for me. I used clothes and make-up to define how I was feeling, and it made me more confident. My yellow hair (which is linked to the book) not being an ordinary colour, is not something that's ever bothered me, because often with the most beautiful animals in the wild the brighter and more attractive, the more dangerous they are.
Watch 'Melancholy' video
Read SELF/LESS
Follow AViVA: