Writing by Erandhi Mendis // Photos by Sara Regan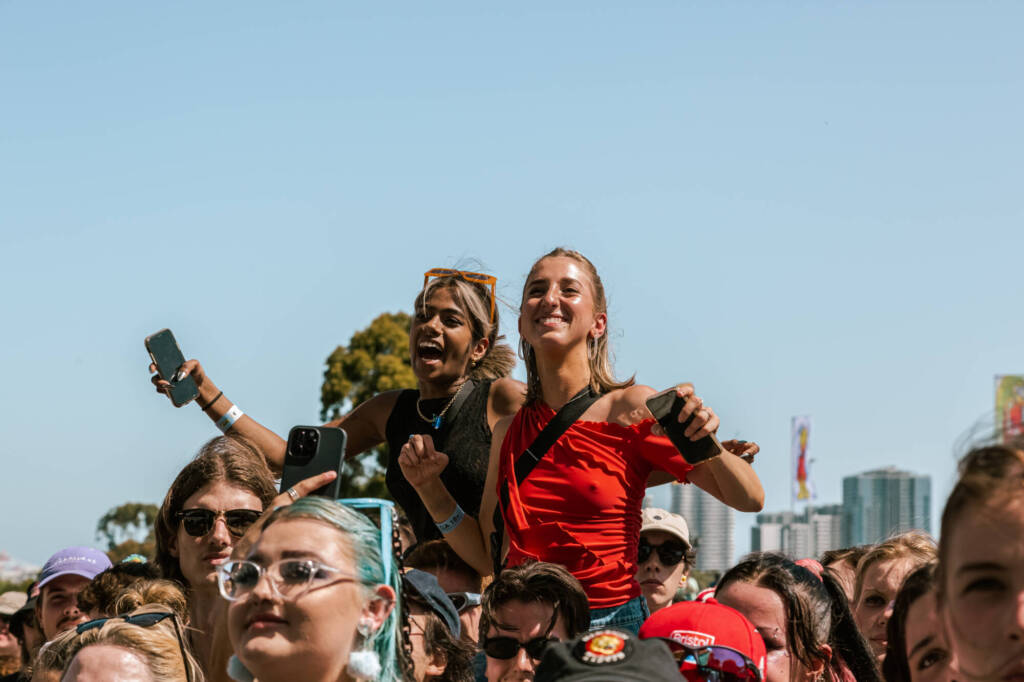 So many of the best things in Melbourne begin in laneways: burgeoning love stories that stumble out of wine bars, street art that levitates over camera flashes, the most delicious coffee you've ever had – and one of the strongest music festivals that the southern hemisphere has ever produced.
After two years of disruption, St. Jerome's Laneway Festival opened the gates at Flemington Racecourse to let 30,000 people roll through; a far cry from the humble hole in the wall beginnings on Caledonian Lane in 2005.
Now boasting some of the world's most popular international acts, it's interesting to reflect on Laneway's more grungy taste-making origins. With headliners that wouldn't look amiss on a Coachella or Glastonbury line-up it begs the question: is Laneway edging away from independent music or is mainstream culture now finally dictated by alternative artists?
The community feel is more palpable in the morning, with acts such as Pricie and Jacoténe (both of unearthed fame) taking the main stages by storm. When New Zealand favourites The Beths perform a laid back indie rock set to an engaged (albeit sweaty) crowd, the vibe is reminiscent of Laneway's block party roots. However, as hordes of people gather near mammoth side-by-side stages in the afternoon, the switch between boutique homegrown fare to super-festival is evident.
Triple J darlings, Sycco, Mallrat and The Jungle Giants feel like Australian festival furniture in the best way – despite Sycco having not released an album yet. It's particularly refreshing to see the main stages draw a domineering crowd at a time slot generally reserved for lying on the grass and deciding what food truck line is fastest.
As the fineprint of the lineup begins to increase in size, Laneway's transformation from a cobblestone speakeasy for domestic talent to showcasing some of the most streamed artists on the planet is complete. What is curious, is how the spirit of the former still seems intact in the face of massive growth. Oddly, this feels carried by the artists themselves – Finneas proclaiming on stage how one of the best aspects of his day is getting to appreciate the other artists on tour and the HAIM sisters sharing how everyone on the lineup bonds backstage, discussing the crowd dynamics in different cities.
Raucous crowds are still a cornerstone of the festival with Norway's Girl In Red crowd surfing over profanities, and in defiance of the relentless heat we finally see people moshing. Daylight savings betrays Fred Again.. tonally, it doesn't feel quite right that he is playing in full blown sunshine. Still, his tour of down under has cemented him within the EDM zeitgeist – sold out shows and complete chaos trying to get tickets to secret after parties meant regardless of the time-slot he drew an enormous crowd. Having seen him in a slightly more appropriate setting it does feel like a shame that the diaristic elements of his performance get lost in the atmosphere.
Whiplash feels like a lazy way to describe the turnover between Fred Again.. and Phoebe Bridgers. If you were up and dancing to a MIDI controller 5 minutes ago, you were suddenly thrust into an emotional damage singalong. It's confusing programming by the festival but I understand the limitations. Having also attended Bridgers' sideshow, her set translates much better in a festival setting – the sunset timed perfectly with her screaming to closer I Know The End.
In another life, an indie folk-pop singer songwriter and an EDM crossover DJ wouldn't sit next to each other but their contrast (and overlap of fans) cement how popular these once niche pockets of art have become. With a crowd predominantly made up of 16+ Gen-Z, infamous for their own trend guidance, it would suggest the concept of underdog independent artists are revered not just as cool – but common.
With the sun down and punters making their final choices on where to be as the festival wraps, I witness a bizarre set from Joji. While objectively slapstick and amateurish at points, it does feel like a strange callback to a messier Laneway – limited polish and far too much crowd interaction. However, unlike historical festival headliners, no matter how baffling or intoxicated you may be – your one job is to keep the crowd up: and it doesn't feel like the former YouTube comedian achieves this.
The confusion is fleeting as the focus turns to the alternate stage, with hits from Cher and Shania bolstering the anticipation. HAIM's only performances in Australia draw the majority of the festival and the LA sisters put on a show complete with signature dance routines and bass face. After a significant amount of flirting, hand clapping to Want You Back and asking the crowd where to go out afterwards (rousing cheers for Cherry Bar and Yah Yahs), Danielle shares an earnest story: Australia was one of the first places HAIM received international success with their early music.
It is at this moment that genre-defining terms feel somewhat obsolete. While HAIM are now bonafide global rockstars, they were once the very definition of up and coming talent – hanging their debut EP Forever off festival performances until they achieved cut-through. As Laneway stakes its claim as one of the biggest festivals in the country, it has done so by celebrating alternative bands who are reshaping the cultural centre of mainstream success. Something tells me the hole in the wall on Caledonian Lane would be pretty proud of that legacy.