Writing by Erandhi Mendis // Photography by Pooneh Ghana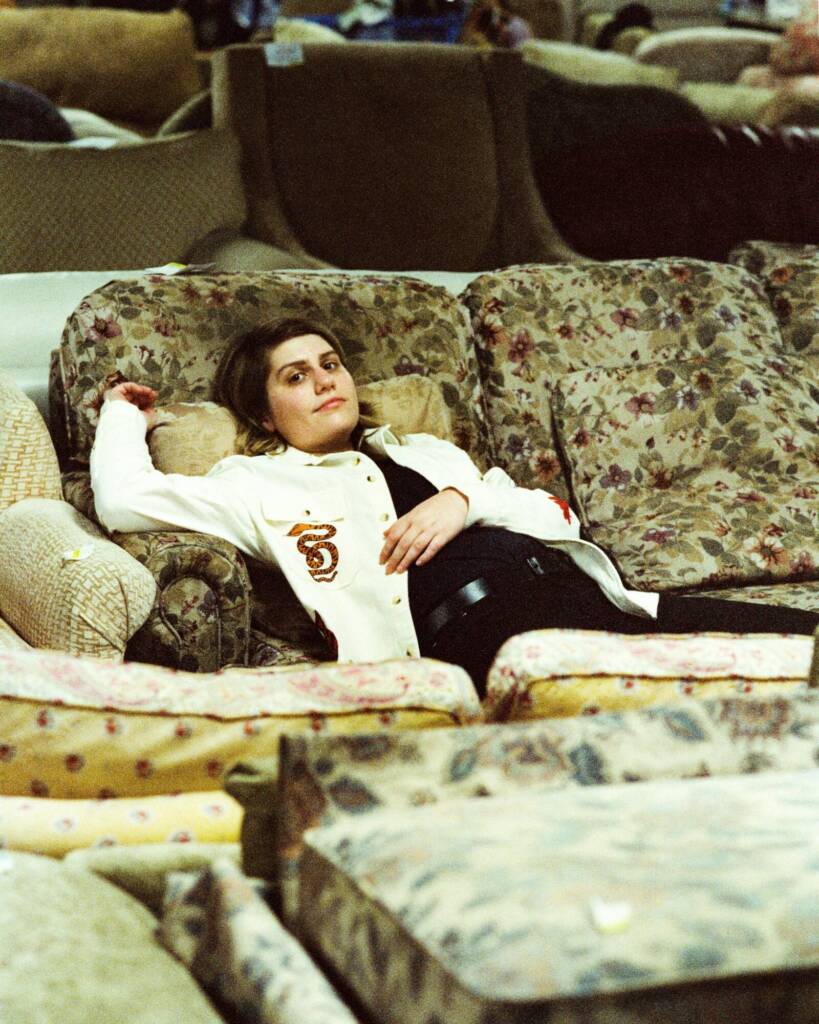 The year is 2015 and I am driving down the Eastern Freeway with a life-sized Taylor Swift cardboard cut out folded up in my passenger seat. I only receive a few strange looks as she is awkwardly unloaded in a North Fitzroy carpark. All social faux pas is forgiven once I place her down near the ticket desk, much to the delight of queuing attendees. The show that evening is highlighting young female musicians (Sandy Hsu, Eilish Gilligan, to name a few) who take the stage one by one, turning a cavernous community hall into an acoustic oasis.
This is the first night I meet Alex Lahey in person. She plays a handful of unreleased songs that go on to find a home on her breakthrough EP the following year, B Grade University. At the end of the set she says something into the flower adorned microphone about bringing the cut-out onto the stage. What follows is a comedic sequence of manoeuvring a 6ft piece of cardboard to the front of the hall and a brief discussion of the best Swift deep cuts (All Too Well). Alex hands me a phone and I take a photo of her, Eilish and 2D Taylor standing in front of party shop tinsel.
"Oh my god I remember that – we talk about that all the time, the Taylor Swift cut out. How funny is that? I reckon I can definitely find that photo."
Fast-forward to 2023: Alex and I are chatting about her third studio album The Answer Is Always Yes (TAIAY) that is set to come out at the end of the week. It's a contemplative, adept study of all the jigsaw pieces of change between feeling young and having to grow up. It's the most brazenly Alex Lahey of all Alex Lahey albums – which seems like a silly and illogical sentence, but the singer-songwriter sits right in her own pocket throughout. Peppered with witty lyricism, cinematic production and an ever-present ode to 2000s emo and indie mainstays, it is my favourite kind of record: one you can look out of a window dramatically and listen to from front to back.
The title of the record – which is also the name of the closing track – began as an old note written in Lahey's phone, uncovered one fateful day.
"One of my favourite sayings is "good fortune favours the prepared mind" and it was just one of those moments. Like, thank you past Alex."
Self-described as a cautious person, the concept of pushing 'the answer is always yes' as a default response was more of a 'fake it till you become comfortable with uncertainty' approach. But it was also a considered creative choice that emerged quite late in the album process.
"There was a lot of uncertainty at the time that I thought was being reflected in songs and albums. I kept seeing these titles that were deliberately contradicting themselves. It would be something like, you know, everything's always great sometimes. And I just wanted to say something direct, super black and white. Even though the answer isn't always yes – to be able to say something indisputable in the moment felt important."
"When we were writing the title track, the verses were so detail oriented – I wanted the chorus to be something just all-encompassing. A total picture statement. So when I found that line in my phone, and we put it in the song I was like, I think that's it. I think that's what the record's called. I think that's what this whole thing is about."
Lahey describes TAIAY as the spirit of being comfortable "in less than preferable situations." Having watched her career over the past few years, it feels like somewhat of a self-referential learning – the age old adage of simply caring less as you grow up.
"I think I've gotten increasingly better [at being outside of my comfort zone]. Sure, it's something I've grown into and I do think you just like give less of a fuck. But I do think I have become more of a risk taker as I've gotten older and I think that is synonymous with leaning in and being open to being uncomfortable."
In many ways, the making of TAIAY pushed Lahey to be more open to a number of things, most notably, revisiting her highly collaborative roots – something that she had not previously explored on her solo project. While the record sounds quintessentially 'Alex Lahey,' it is distinguishable from previous offerings and predictably shines with more polish as her craft has developed. The main success is won in hearing her build a sonic landscape that is diverse with creators who understand Lahey's end goal.
"This record was an interesting one because it was the first collaborative one, particularly in terms of writing it, which was something I've sort of never been open to up until now for my solo project specifically. The way that [this artist project] started was that I was like 'oh, I'm kind of curious, see what happens if I make myself rely on nobody else' you know? And it just so happened that that got on the radio which is why I have a job now. Because of that, I felt at the time that was essentially the ethos of the project. I think it was important to prove that to myself but I kind of realised that once I had done that, I can be a bit more open and explore more. Which is funny, because I feel like my journey to collaborating on my own project has happened in reverse to a lot of artists."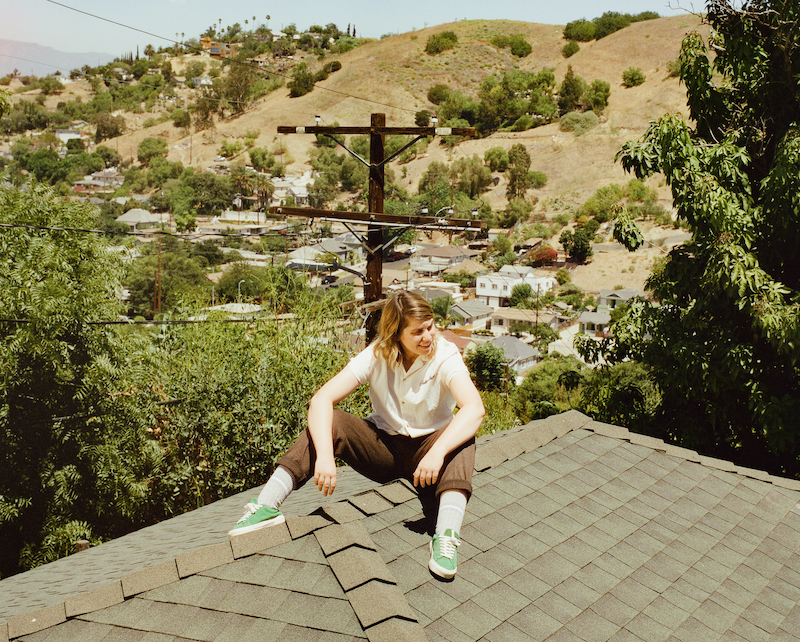 The journey that Lahey, and many of the artists I first met back in 2015 have been on has not been without complex learnings about the music industry. The story a well-worn, familiar tale of an uphill battle, often in the dark. Having grown up watching diversity slowly find it's way onto festival posters and seeing marginal growth in the numbers, Lahey is equally passionate and concerned about how much more there is to do.
"I don't think much as been resolved. There is still an enormous pay gap between artists on a bill and I think there needs to be more attention brought to that. Unfortunately it's really easy as an artist in our industry to have the wool pulled over your eyes and there's not much discussion about pay so it's much harder to gauge. Looking under the hood of these posters I think there is a lot to be discovered and discussed – exposing that is the first step to some sort of resolution."
The discussion of pay and specifically the gender pay gap within music is one that has been left relatively protected by the industry. Initiatives such as Keychange aim to achieve parity across festival line-ups – but as Lahey points out, this is far more about the optics than it is about the behind the scenes. Notably, in 2018 indie rockers HAIM publicly shared that they fired their booking agent upon discovering they were being paid 10 times less than someone else on the bill.
"To be honest I only became aware about the transparency pay discussion when I saw the HAIM thing. That's the issue, we're just not talking about it enough. It's probably happened to me but we just wouldn't know. Obviously not accusing anyone I've worked with but it just sounds like it could happen to anyone."
The pay discussion is particularly concerning, knowing how historically marginalised groups are consistently at a disadvantage in power dynamic driven and positional authority relationships. Speaking on her journey as a queer artist she mentions that visibility is something that has been discussed for over a decade now – the real challenge is moving the discourse to equity.
"I don't want to say taboo, but it was still undesirable to be a queer artist in 2015. People used to think that having queer audiences would isolate you from the mainstream so it's been amazing to see at least in the indie world, that queerness has become part of the mainstream. I do think there is a long way to go when it comes to protection of our trans family in the industry and everywhere else and still such a long way to go when it comes to depictions of queerness in pop music. But it has come a long way and I'm really excited to see teenagers now harness their own queerness and see how it informs their creativity. Gone are the days of queer artists having to veil pronouns in songs."
The influx of overtly queer artists who unabashedly center queerness at the heart of their music, Lahey believes does inform the broader cultural landscape.
"One of the greatest pieces of advice I was ever given was by Tegan and Sara," she pauses to laugh – possibly at how it must feel to have people you deeply admire become mentors and friends. "They said to me, if you behave the way you believe the norm should be, then the norm will follow. So writing songs with that in mind, that inspires me greatly."
Advice, experiences and the art that informs Lahey's creative process is an interesting discussion.
"I actually don't love listening to other music as I'm making music. And I hate that because I love listening to music. But there are a number of reasons, you don't want to sort of dilute some of your thinking but also some of it is like insecurity and fear and, you know, when you're in a certain part of the process and then you're can't help but compare it to things that are finished. It's hard not to compare."
With these limitations of music, Lahey describes film as her touchstone instead, referring specifically to an experience completing the Artist's Way – "it's probably a super cringey thing, but I was curious." The program encouraged her to regularly take herself out on a date once a week – where she found herself going to the cinema.
"It was just as lockdowns were lifting so it was completely empty. Just me having an entire cinema to myself on whatever the cheapest day was at the Kino and I'd go every week. I feel like I saw a lot of stuff in that time that did inform a lot of my own self-reflection and definitely manifested on the record for sure."
She references a Norwegian film, Worst Person In the World as being particularly compelling. The narrative is framed around a millennial woman in her 20s, discussing transformation, boundaries and learning how to navigate the pursuit for love and meaning as the world shifts around you. It feels appropriate given the general context and multitude of themes that Lahey explores on TAIAY.
"That was just where I was at in life at the time [in the film], and the concept of change and how your approach to life changes as you grow up is a big part of that – and is demonstrated in even just the title of the record for me."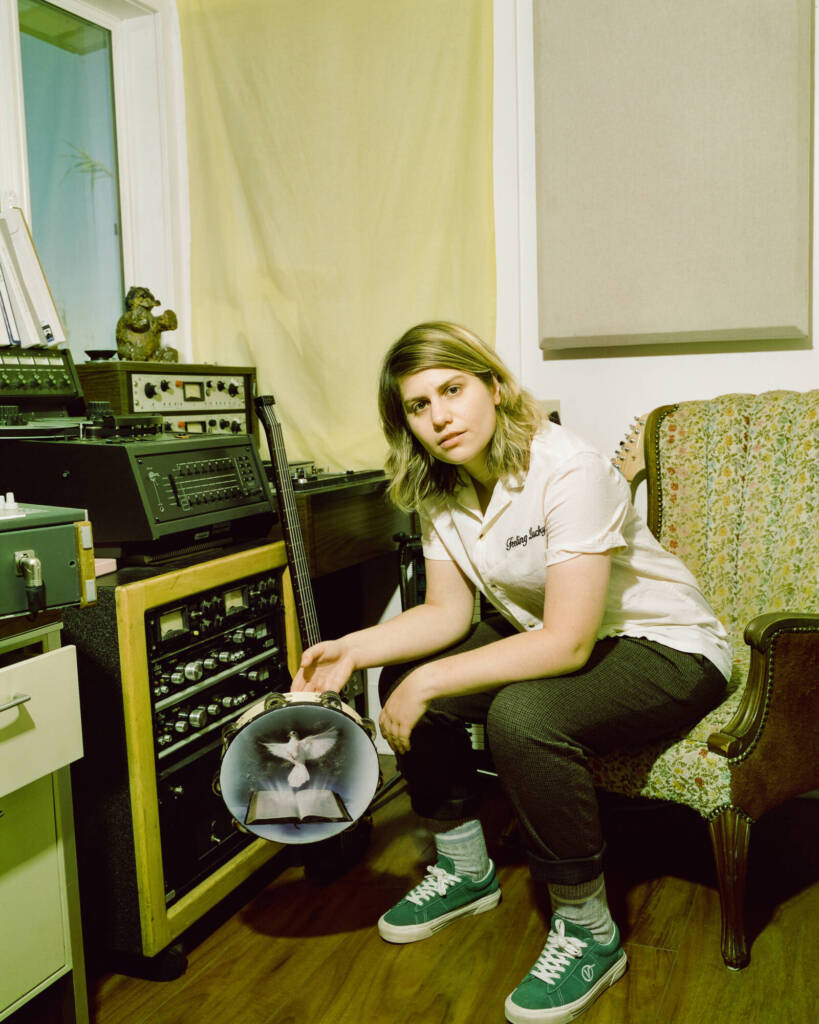 As a songwriter it is clear Lahey is almost religious about studying her craft and holding a sense of loyalty to the process of creating songs that are representative of her life.
"Figuring out what to do with some of the songs was tricky, even Sky Is Melting, where writing it felt really quick and organic – that existed as just guitar and vocal for a really long time. I thought it was maybe this 'Hey There Delilah' moment, but it ended up needing a bigger foundation and songs like Congratulations I re-wrote a lot of that which I'm glad I did. On the flip side, Permanent which I wrote with Susie Shin felt as though it fell out of us. There's always problem children but there is a certain kind of reward that comes with that too."
We touch a bit more on Congratulations – a wry and sardonically relatable song. Lahey divulges that the premise began when a very specific scenario occurred in her life: two of her exes each respectively got engaged in a short space of time.
"It was sort of like, the world is giving me a song you know?" she laughs. "Sometimes you have to be able to identify when that happens. Of course, I was really happy for both of them but it's always funny to consider yourself as a chapter in another narrative – which we all are. We're all chapters in lots of people's narratives, whether romantic or otherwise and I just remember thinking, I want this song to be sarcastic. You don't really hear sarcasm in music all that much and I just wanted this to be a really sarcastic song but also tender, so I think I think we struck a balance."
She's right, the song is sarcastic without being brash, it's tender without being soft and the record as a whole is filled with emotional sketches that somehow avoid being cloying.
It is at this point in the interview that I realise the title track has fast become my favourite, because I continue to return to asking questions about it – and being delighted at how much thought has gone into the track. Lahey references the re-popularisation of rubber bridges on guitars post the success of Aaron Dessner's production on Folklore and how present that muted sound is across the alternative charts (The National, Phoebe Bridgers – all notably entrenched in the Swift multiverse by this point). This practice of modifying newer guitars and adding interesting pickups and pedals feels omnipresent across the whole record but especially on TAIAY.
"It's essentially a power ballad, but all the bleeps and bloops you hear at the start is all guitar."
I mention that the highly intentional 'bleeps and bloops' reminded me of a specific brand of graphic nostalgia found in the Pixar classic, WALL-E – "I've never actually seen that movie, I'm sort of a bit scared because I know it will make me super upset. But I guess that's what the song is about – at the end of the day it's all out of our control and there's not a lot we can do about it. You know, I'm in Los Angeles at the moment and one of the things that is kind of ingrained in the culture is that everyone is waiting for 'the big one'."
She is of course, referencing the seismic risk under California's San Andreas fault line – predicted to cause a massive city altering earthquake in the next century.
"So everyone sort of knows it's coming but it's sort of this thing of: there's nothing you can really do – it'll happen one day and we'll deal with it. But it is funny how that informs the culture and kind of the way people pursue things. And with TAIAY, I did feel that it wasn't a resignation thing – I think you can find joy and power in those things. But, to really bring it home I did find a folly recording of an earthquake and that's in the track that just gets bigger and bigger with static until the music is overcome by it entirely and that's how it ends. There's something quite cinematic about it I suppose, but that's as conceptual as I got," she laughs.
The use of an earthquake recording is the perfect example of Lahey's effortless skill in creative direction – linking lyrical concept into a subtle reference to her own observations that don't even overtly get shared on the record. It's clever and speaks to why the album feels anthemic. It is almost as though you are watching something unfold as you listen, a feat that most of us without synesthesia generally have to be quite moved to achieve. However, at multiple points in the record I do feel as though any one of these tracks has the weight to sit behind film or television. I share with Lahey that the highest compliment I can give an artist is that her songs could effortlessly slot into a big galvanising moment of The OC – the music supervision of which, was curated by Alexandra Patasvas.
"God, you're speaking my language. I was out last night and we were talking about The OC. That show was crazy – it will never, ever happen again. It's just so good."
Much like the timelessness and joy elicited by cardboard cut-outs and teen dramas – The Answer Is Always Yes immediately feels like a seminal classic, but I get the sense that given Lahey's propensity to grow – it too, will never, ever happen again.
—
The Answer Is Always Yes is out now everywhere you listen to music. You can keep up with Alex Lahey on Instagram.