Writing by Erandhi Mendis // Photography by Sophie Scott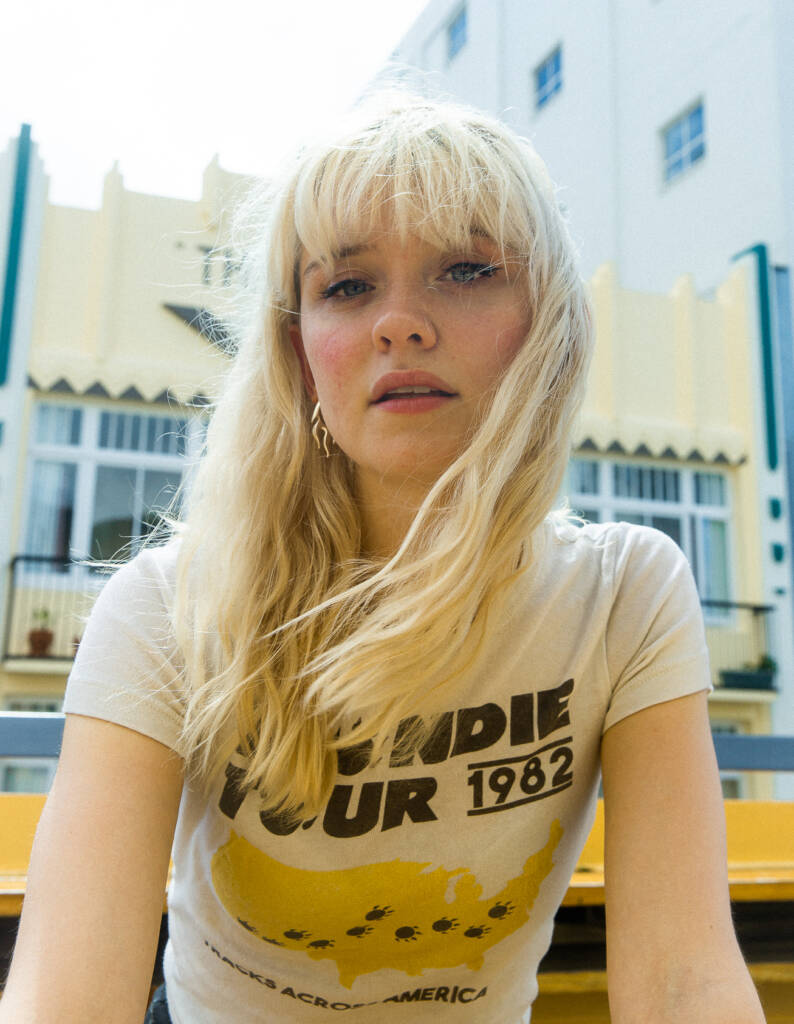 "Go ahead and annoy me one more time….. The last witch that did is laying under a house."
When I was about 8 years old, I said this line on a stage. I put on a big pink dress and performed as Glinda the Good Witch in a production of The Wizard of Oz. Feeling powerful, yet soft – perceived ability to blow everything up while looking like a meringue – was probably a fitting induction for the human experience despite being too young to fully grapple with the concept.
But Glinda isn't the only good witch on the block. If there was ever a yellow brick road, Maisie Peters is on it. But she's not Dorothy – or Glinda.
"I wish it was a Wizard of Oz reference – I love that film, but it's not. It's not a Wicked reference either, which is also a great piece of art."
Peters says this, with the reverence of an artist who adores art in all forms. We are sitting on a couch at her hotel and her eyes seem to sparkle at the mention of the children's fantasy novel. Her music often feels subsumed by precise literary and filmic references, but it feels fitting that the title of her sophomore album venerates her own journey.
"A lot of the ways these songs came to fruition and how they happened alongside my life, felt like witchcraft. And I liked the title because I think [it evokes] feelings of femininity, power, danger and benevolence. But also cruelty and spite. And I liked the contrasts – whenever I make music I like to create a universe and the world of The Good Witch really felt like mine."
From Brighton ingénue to a stage presence that fills stadiums worldwide, watching Peters' career over the past few years has been a rewarding and often dizzying experience. Her comment about The Good Witch feeling like 'hers' rings true throughout the record – each track is as open as it is fiercely protected; a diary entry that harkens back to the girl in her bedroom writing songs. It takes a particularly deft craftsperson to pepper youthful innocence amongst sagacious and perceptive lyric – Peters feels like a masterclass.
When I first heard pieces of the record back in March, immediate standouts were Lost The Breakup and You're Just a Boy (And I'm Kinda the Man) – anthemic, empowering and entertainingly sassy, the pace of the tracks coupled with Gilmore Girls level delivery feels hallmark Peters at this point. But it was Wendy that made me cry in the gym on first listen.
"Oh no, not crying in the gym!" Peters exclaims somewhere between empathy and laughter when I share this tidbit.
I remember being on a treadmill and feeling like someone had punched me upon hearing the line: "If I'm not careful / I'll wake up and we'll be married / And I'll still flinch at the sound of the door." Peters skillfully threads these gut-wrenching images as she analogizes J.M. Barrie's Peter Pan in the Good Witch universe.
"I'm glad you liked that one because it feels like a really important part of the record. It walks the line between realism and surrealism. There's a lot of extreme truth in it at times, it's very accurate to my life but then there is also this sort of gauzy area where it steps into a more magical space and fictional reality."
Peters goes quiet trying to express what she wants to say and assures me it is important that she says it correctly as she has thought about Wendy a lot.
"It's cool to have a song where there is a version of myself that knows she could do those things – "Lose the world you live in / pretend is what you want." Seeing a path you could take, that isn't the right one despite the fact that you could still find good in it. Knowing there is a difference – that you're not going to do that to yourself. I think that theme of "what about my wings / what about Wendy," is so necessary on this album."
There is something tender about believing in lost boys until it burns you that feels like a shared experience for so many young women. I tell her that I wish I knew how to care about my own wings when I was 22 and she sends me a knowing, sad smile that tells me she too, had to learn the hard way.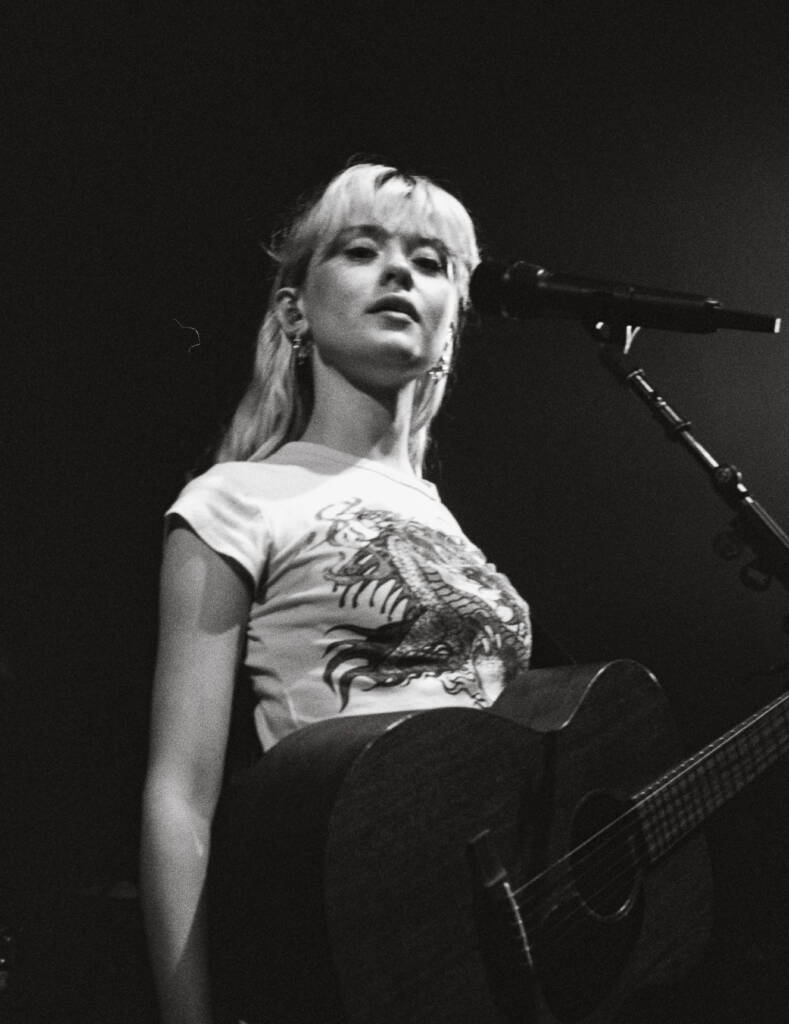 Where Wendy allows room for fantasy, Two Weeks Ago is a stark painful mirror upon every heartbreak you've faced. Peters released this track (three weeks ago now) and the piano ballad is a desperate wish to turn back time. It's bittersweet and devastating – so it feels like a natural progression for me to ask her thoughts on optimism in romantic relationships.
She laughs and then says, "you're wearing a t-shirt that my dear friend Gretta wore on her tour, so I can't stop thinking about her when I look at you – and she's the most optimistic queen I know." Turns out, Australian treasure, Gretta Ray sings a slew of breathtaking vocals on three Good Witch tracks, including Two Weeks Ago.
I rephrase and ask if there is a love song on the album. She's now in stitches and tells me that's a good question, "you know what, there isn't – and that says everything about the year I had." There are a lot of jokes before she doubles back twice and clarifies that Two Weeks Ago, despite being from a heartbroken place, is filled with love albeit tinged in regret, and that The Band and I is the only real love song on the record.
It seems amiss not to mention that the entirety of The Good Witch is, at times, a love letter to Peters herself. Much of the record is reckoning with her own sense of self and the strength she wields. Placing oneself at the centre of every narrative is not something every love-lost 20-something excels at, we are far too often willing to lean into the learned behaviour of sacrifice. But The Good Witch serves as an aide-memoire of the depths humans go to colour others before themselves; and the bewitching epiphany of how important you are on your own.
"I just couldn't stop thinking about how crazy it is, the power and magic we as women – or anyone really – gives to somebody else [in a relationship]. And this realisation that, [often the good] was all you? That wasn't really them. You created that. You are so much more than the single layered character someone else told you you were."
She sings about this on deceptively perceptive club banger Coming of Age. It calls back to Peters' debut single John Hughes Movie from her first album You Signed Up For This – overtly about how sometimes when the girl doesn't get the guy, the coming of age film falls apart. But on The Good Witch, Peters finally deems that even the unsavoury experiences are a celebration of herself – an ode to brave protagonists.
"On the song I say 'You had the speaking parts / but I guess I was the playwright,' or 'I made you, the big star / I let you butcher my big heart / but it's my song and my stage,' and I'm just entering a period of my life now where I no longer have to keep entering the stories I write with the same narrative of someone else is the biggest best thing – they are not the muse anymore."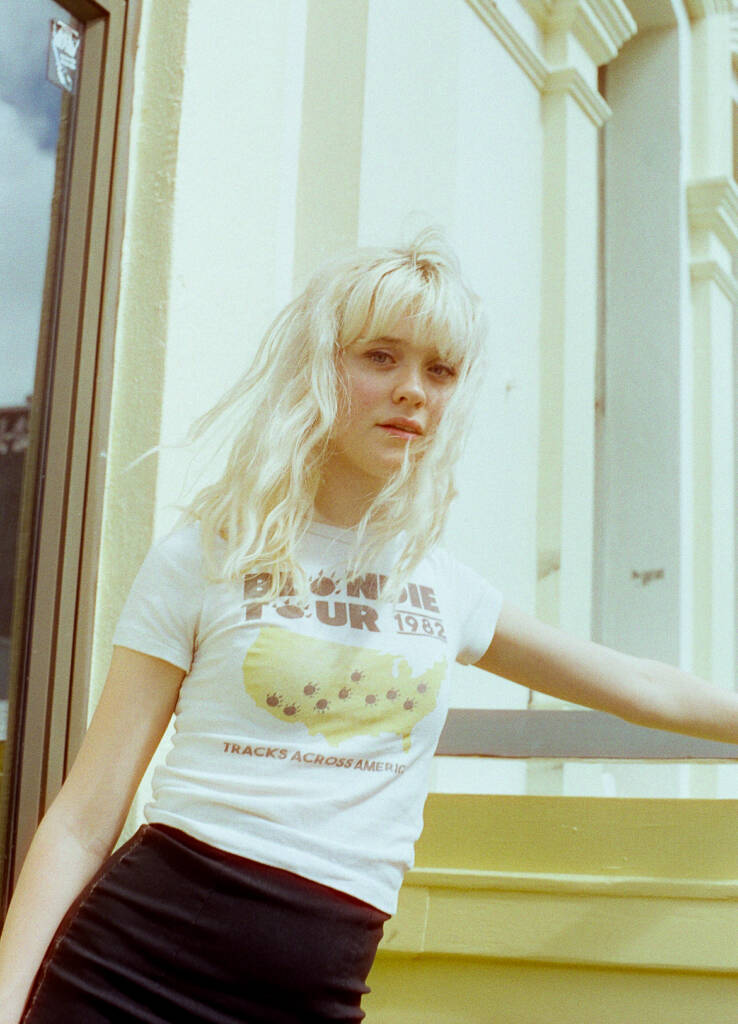 The album closer History of Man is lyrically, one of the most impressive on the record. It tells an interwoven story of feminine experience in the face of repeated – predictable – tribulations. I listen to this after I meet with Peters and I am struck by how much of what we discussed surrounding relatable pain amongst women is summarised in something equally succinct yet expansive. Drawing from Greek mythology and biblical imagery she teases out something I've not yet heard on a pop record: the melancholy resignation that history suggests at some point, despite your best efforts, a man will fail you. It's a triumph of a song and one that unfortunately, is likely to age well.
She talks to me about female rage and its portrayal across different mediums. The concept of The Good Witch sounds like it should be filled with curses, hexes or rage – and in some parts she says, it can be angry – but for the most part it really isn't a wrathful record.
"This whole album, even though ironically it's basically a breakup album, I don't think there's anything that scathing on it. There's maybe one song which is a bit of a knife but it's not really that scathing? And I always come back to the fact that it's not really about them – it's about me."
If you're looking for personable, clever pop – Peters is it. It's important to note, she is also standing at the gates of American consciousness; on the precipice of something that has often felt unattainable for international acts. Late night appearances, being mentored by Ed Sheeran, selling out shows in the US and entering niche discourse (New York's pop culture multi-hyphenates Las Culturistas, have dropped a number of references to Peters this past month alone). We are watching a young woman on a trajectory where at times it has felt like the only thing slowing her down, was a global pandemic.
She promises me that she is fallible. Of course she is, and the songs map out flaw and vulnerability with a sharp pen – but she assures me that sometimes the songs are a cycle.
"I think about this all the time – do I care about a situation because I'm writing about it? Or am I writing a song because I cared? It's a dangerous game. I like to chronicle and document, but I think when I am happy I don't feel the need [to document] in the same way. Because you feel so secure in it. I love a happy ending and I think one day I want to write and chronicle those songs. You know, I think about the infatuation on early Taylor Swift albums or Golden Hour by Kacey Musgraves. I'm definitely looking to do that at some point in my life. But I'm not there yet."
While she may not be in her love song era, this feels like the pre-chorus to something bigger – Peters has birthed a portrait of a woman who knows her worth. She tells me she's been thinking a lot about Silver Springs by Fleetwood Mac and the iconic lyric 'You'll never get away from the sound of the woman that loves you.'
She smiles at me, "Stevie Nicks is the original Good Witch."
—
The Good Witch is out now, wherever you listen to music.
You can keep up with Maisie on Instagram
Maisie Peters returns to Australia in March 2024 for headline dates in Brisbane, Sydney and Melbourne. Tickets are on sale now HERE.