Writing by Simone Ziada // Photography by Ian Laidlaw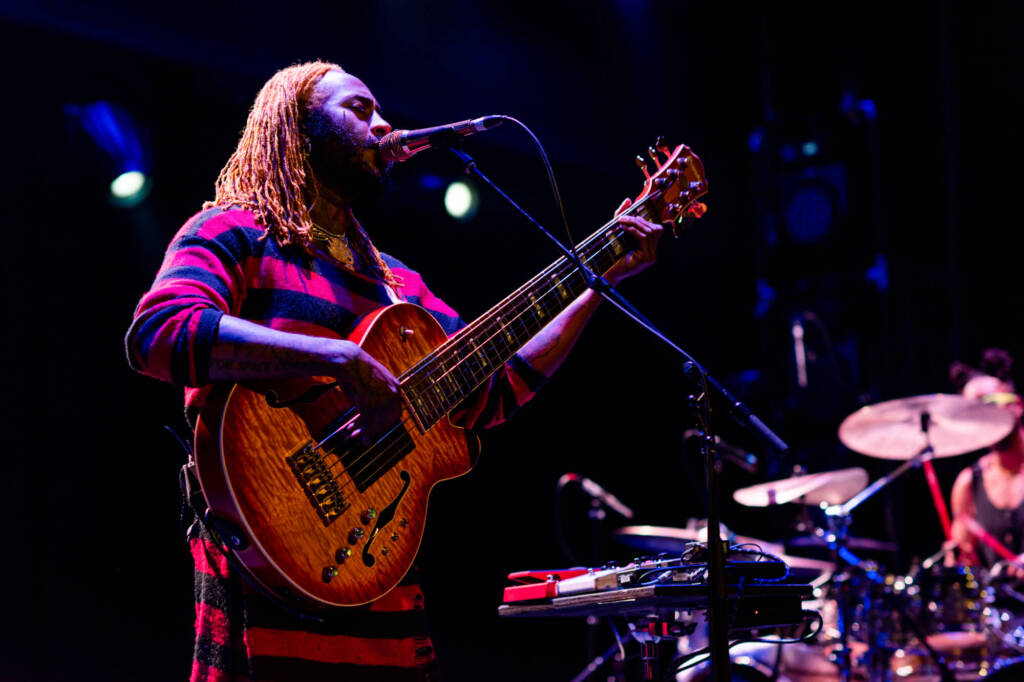 There's something to be said about the anticipation that comes with an impending gig – one that you've been waiting for, for what feels like forever, but also feels like it's come around so quickly (how is it already June?).
Thundercat's performance at Forum Theatre for RISING Melbourne was that performance for me. Coming off the back of two years of no live music (yes, I will still mention Covid lockdowns at any chance I get), any moment for me to go to a gig or festival and be in amongst it sends tingles down my spine that I can't even begin to describe.
The moment that Thundercat was announced for RISING, it mentally transported me all the way back to the happy nostalgia that was Golden Plains 2018. A sunny Saturday afternoon, good vibes, good tunes and great mates. I was eager to try and relive that feeling.
Walking into the Forum that night felt special – vibes were high, and there was the perfect mixed bag of well-liquored friends, cute partners and solo pals (just like me). I was conscious of not wanting to experience the whole gig from my tippy toes, so I stood closer to the back in order to witness every moment, every spectacle.
I caught the end of opening act, Flyboy Jack, who seemed to have dished the crowd the most ideal pre-main course energy – the perfect opener to the musical delicacies that we were about to feast on. They ended their set promptly at 9.30pm, and by 9.45pm it was time for the act that we were all there to see.
Now's a good time to disclaim – and I'm sure you may have picked up on this from my earlier ramblings – that I went into this gig with the highest of expectations, which I now know was a mistake. I remembered everything I loved about Thundercat's Golden Plains set that, 15 minutes into his RISING set, I started to question my memory (now is also a good time to mention that I was in no way as inebriated at this gig as I was during his GP set).
This isn't to say that I wasn't enjoying his performance at the Forum, but rather, I suppose I was just expecting…more. What felt like a glorified jam sesh was only broken up by (very well laid out) banter with crowd, covering everything from Australia's mile high club to finding it amusing that he won a Grammy for his album It Is What It Is, and more.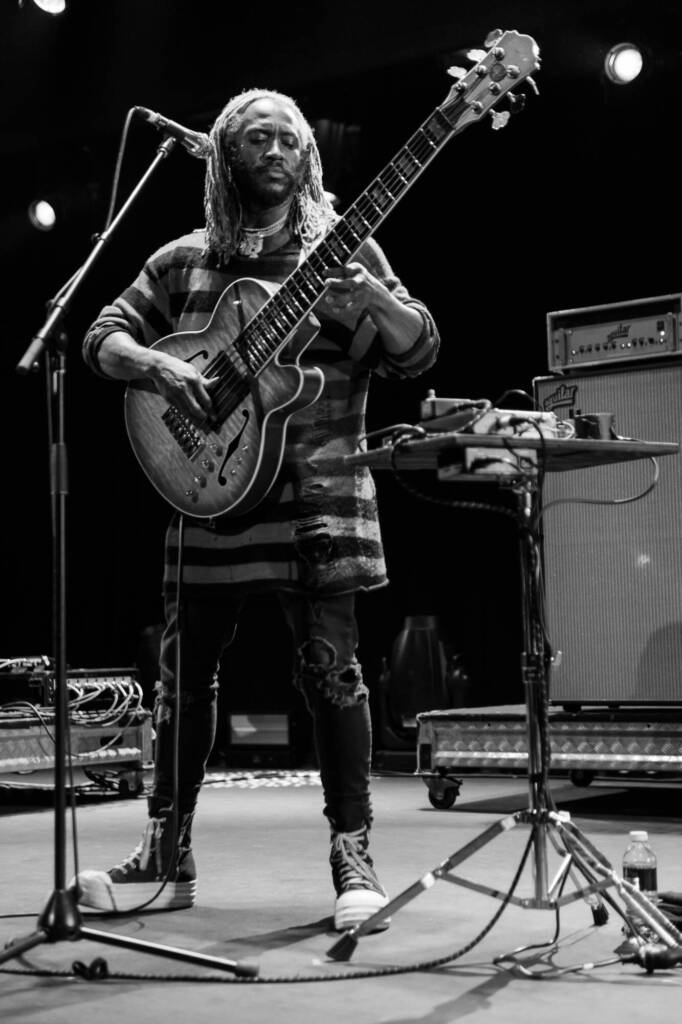 It is undeniable that Thundercat (aka Stephen Bruner) oozes talent; which is no wonder being that he is the spawn of Motown royalty, Ronald Bruner Sr. He plays with such enthusiasm yet such ease. Really, he's just that cool. Lowkey and effortless, while also being engaging. But still, I felt that something within his set was lacking.
Perhaps it's because I'm not a diehard fan, or a musician myself, that I didn't quite understand the approach. In fairness, I listen to Thundercat predominantly through his collaborations. Maybe that was where I was going wrong?
It's not to say that I wasn't enjoying what I was watching and hearing but, like I said, I think I was just expecting more.
Introducing his track, the aptly named I love Louis Cole, Bruner relayed the anecdote to the crowd that led to the inception of this song. Essentially, it's a song about how he got wasted at Louis Cole's house. Bruner then asks the audience if we'd ever been so drunk before, to which he quickly chimes in on his own question by joking, "This is Australia, right?" He's got a point, we do love our booze.
It was at this point of the setlist where Friend Zone begins and the crowd reacts accordingly – with the greatest of enthusiasm. We were all happy. The night was nearing to an end, and I knew in the back of my mind that Them Changes was still yet to be performed. Some fart banter (yes, you read that correctly) about how farting in bed is "just for warmth" broke up what was to be the conclusion of the setlist. An introduction and celebration of his live collaborators on the stage, Bruner and co. then began playing Them Changes and, as you can imagine, the crowd went wild – with phones all over the venue held up to record a glimpse of the very popular track.
Despite the gig not living up to the expectations I had set in my mind (again, definitely a me problem) it was hard to not enjoy the performance that night. Thundercat is a performer, through and through – and an incredibly talented one at that.