Interview with Belle Noble by Molly McKew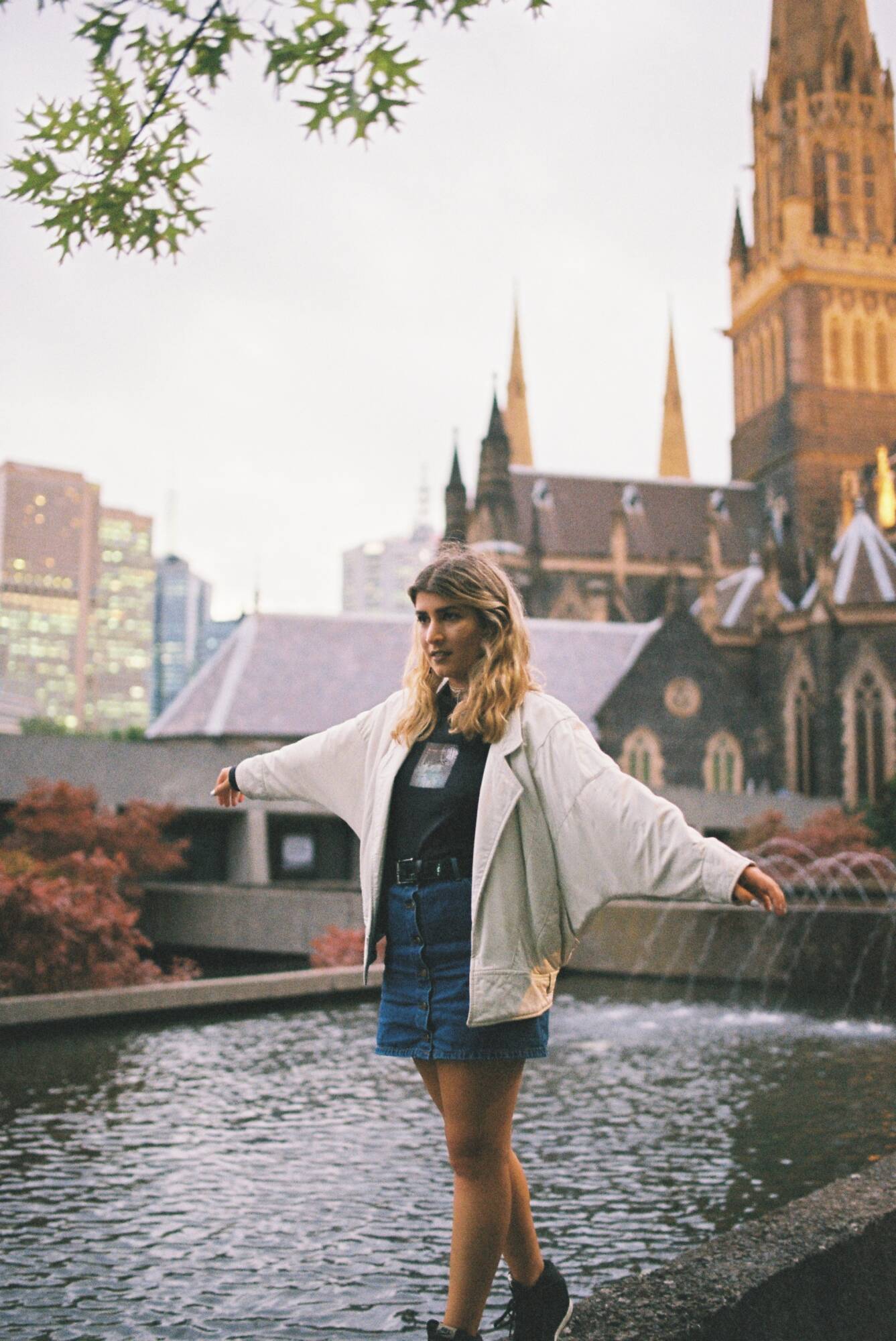 Hi Belle! Firstly, tell us about your musical upbringing; how did you find your musical voice?
Hi Ramona! I was born into a very creative fam – mum and dad are television producers and my nan was an opera singer, while my grandad was a concert pianist. Nan always used to sing to me and apparently I was singing before I was speaking, so that's probably when my love affair with music began and really took centre stage of my life. Dad has a beautiful and vast record collection from his days working on 'Countdown' so I was lucky enough to grow up always listening to a variety of sounds, which helped spark my interest in music production and songwriting. I was also encouraged (forced) to do vocal and piano exams from a young age, but it wasn't until the day I stopped the lessons did I really start to play and sing for me, and really tap into that emotional and creative outlet. I am seriously grateful that my family really allowed me to find and nurture my musical mind, because if they'd been like 'that's great and everything but please learn something practical and find a real job' I'd definitely not be pursuing music now; I'd also most certainly have some kind of suppressed anger/hate the world complex thing going on.
Your latest single 'Instinct' is pretty powerful – tell us about the inspiration behind the track?
I'm so glad you feel that way! The song initially came from a negative place, as I was really frustrated by someone who at the time was setting aside their values and morals for more money and success (you know that person who is always scanning the room for someone more important to talk to? Yep.). From there the song morphed into more of message of empowerment, encouraging people to listen to their own moral compass or instinct, and generally just reminding everyone to back themselves more. I don't know about you but my news feed is completely over-saturated with depressing news every single day, and it's nice to see or hear a positive message every now and again.
What messages do you hope people receive from your music?
I'm hoping the lyrics will inspire people to embrace themselves and their own identity whatever that may be, empower individuals to listen to their instinct and not just go off what everyone around them is saying, and question what we're being told more. "They want the power but who'll be paying?" is a line from the song and I think it's a good question to ask when it comes to anything from politics, to work, to your daily life. Let's allow one another to love and trust ourselves more.
You must have had to maintain a lot of focus and stay true to your ambitions to get to where you are now! How do you make sure you maintain a good balance between your work and your other relationships with friends and family?
I'm still learning when it comes to striking the right balance between work and play. It's also tricky balancing art and commerce, and I don't think it gets easier as time goes on. Doubt is the worst – I'm lucky enough to be surrounded by such a beautiful, supportive group of people, who have helped me push through whenever I've been really overwhelmed by the idea of pursuing my own music. I think in terms of balance, the only thing that works for me is a priority list (lists calm my mind so much, I love lists). At the end of the day I want to be happy and content with life, so I work out what I need to be doing or maintaining and try to stick to it. I have short and long-term goals list that I try to steer my life with, but I make sure I always have enough time to be with friends and family – to me, nothing is more important.
Looking back, what advice would you give your 14 year-old self?
Stop worrying about things that are outside your control. Don't grow up so soon, you're young and you're free. No stress gal, those braces will come off soon.
It doesn't matter what ANYONE thinks of your body except yourself (especially boys, their opinions literally mean nothing. Also damn, you look amazing as is so stop feeling like you have to look like something you're not!)
Can you please relax a little and start being cheekier? I need better stories about breaking the rules and being a naughty teen.
And looking forward, what are some of the things you hope to achieve in the next 10 years?
I'm hoping to turn my music into a full-time career. I'd like to become a FIRE music producer and start writing and producing for/with other people. I also want to be touring around the world, as well as spending half my time in Australia, half my time in New York. A big goal of mine is to be in a position to empower and support women around the world, creating more opportunities and choice. I love it when a person in the spotlight uses their platform to help others and raise awareness about things that people would otherwise not know about.
What are some artists you've been listening to lately?
Fortunes, Lanks, Winston Surfshirt, Sampa The Great, Mø, Kaytranada, George Maple, Frank Ocean, Solange, Tame Impala, The Internet, Kendrick Lamar, Anderson Paak, SZA, Chance The Rapper, Sampha, Childish Gambino, Swet Shop Boys, AlunaGeorge, Ta-Ku, SBTRKT, The Weeknd, to name a few.
Ok, now to whittle them down: pretend it's 1999 and you're about to be stuck on a desert island with only a discman for company. You can only bring one album to listen to. Which would it be?
Wait, so if it's 1999 then it has to be an album from pre-1999… It'd have to be "Help!" by The Beatles. Mainly because 1) relevant title, 2) I've listened to it a million times growing up and it'd be great to help me constantly relive my childhood, and 3) It's The Beatles, their tunes are timeless and classic. I've changed my mind so many times in the space of writing this so I need to stop now.
Finally, do you have any other secret hobbies or talents we should know about?
I can rap 'Where Is The Love' by the Black Eyed Peas word for word. I'm also OBSESSED with reading/creating elaborate fan theories on Reddit (eg Game of Thrones, Westworld, How To Get Away With Murder) – I probably need to go out more.
Listen to 'Instinct' via Souncloud and be sure to check out the official video here.