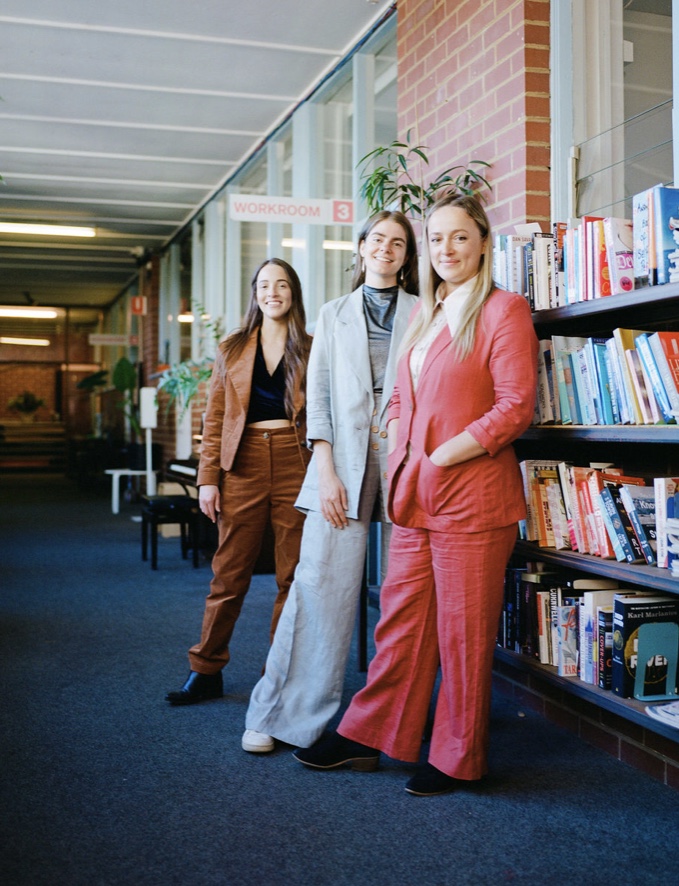 Dear Ramona Family,
Welcome to our new home! We hope you feel safe, comfortable and inspired within our virtual walls and we hope to see you and hear your voice regularly. You are always wanted and loved here and we hope you feel like part of our family!
Ramona has grown considerably since we first began publishing in 2015, under the name Tigress. Over the years, our small team of volunteers have taken on many exciting new challenges; print editions, internship programs, live events and workshops.
During the pandemic and the subsequent lock-downs in Melbourne throughout 2020, our team came together and decided it would be the perfect opportunity to place Ramona on hiatus and focus all our energy into rebranding, redefining, and refocusing Ramona. In the midst of this process we said goodbye to Sophie, beloved co-founder and creative director of Ramona. Sophie believed in the publications potential from the very beginning; and although we understand that it was time for her to move on, she will always be a part of Ramona's family and Ramona's beginning.
When we decided to rebrand, we had a loose plan to design a new logo and update the website. We had no idea exactly how much of an overhaul the Ramona brand was in for.
When we approached the new logo and the overall aesthetic of the 'New Ramona' we had to ask ourselves, who is this new Ramona? How has the magazine changed? How has our audience changed? And what direction do we want to go in moving forward?
Something we all agreed on was that Ramona had matured, our baby had 'grown up'. Over the years our target audience had organically shifted from the age bracket 15-25 to 18-35+. We wanted our aesthetic to reflect this growth, going for a more minimal font logo that echoed the original floral and youthful Ramona look. While our audience has definitely grown up, we want to be clear that we are still here for our teen viewers. The content we share is always body positive, sex positive and informative and we feel this information is just as important for teens who are learning about these topics.
In examining this, we realised just how much Ramona had changed, and decided it was time to revisit our mission statement and vision for the future; redefining the purpose of Ramona and laying out some goals for the next few years.
Firstly, we grounded the magazine as an Australian publication. Ramona has always, and continues to, welcome readers and submissions from all over the world. However, as the majority of our team, and our following, is based in Naarm/ Melbourne, we felt that it was time for Ramona to lay down roots.
Ramona's core mission and values have remained the same. We aim to empower, educate and inspire; to create opportunities for cis and trans women, non-binary people who are comfortable in a space that centres the experiences of women, members of the LGBTQIA+ community, and BIPOC, to develop their work and share their stories.
Our vision for Ramona is to continue to grow and evolve as a publication. We want to post less content, ensuring that what we do publish is of the highest possible quality; completely revamping our posting schedule to reflect a more traditional publication.
We aim to run sponsored advertising campaigns, partnering with brands that share our values to help fund future community focused projects, and continue to create industry mentoring and experience for young Australian creatives. And we want to run more creative and educational workshops, like Period Witches, and create helpful online resources.
It goes without saying, that many of these updates wouldn't have been possible without monetary contribution. Although our team of unpaid volunteers are very talented, something as extreme as a complete website redesign was a little out of our skill set and our budget. We have always agreed to only ever work with brands whose values align with our own, and who we believe our audience would benefit from hearing more about; which is why we are overjoyed to have Lunette as our relaunch sponsor.
We look forward to sharing this new era of Ramona with you, our community.
Love, The Ramona Team
Freya, Tara, and Hannah